USS Preble DDG 46 at sea
by Phil Toy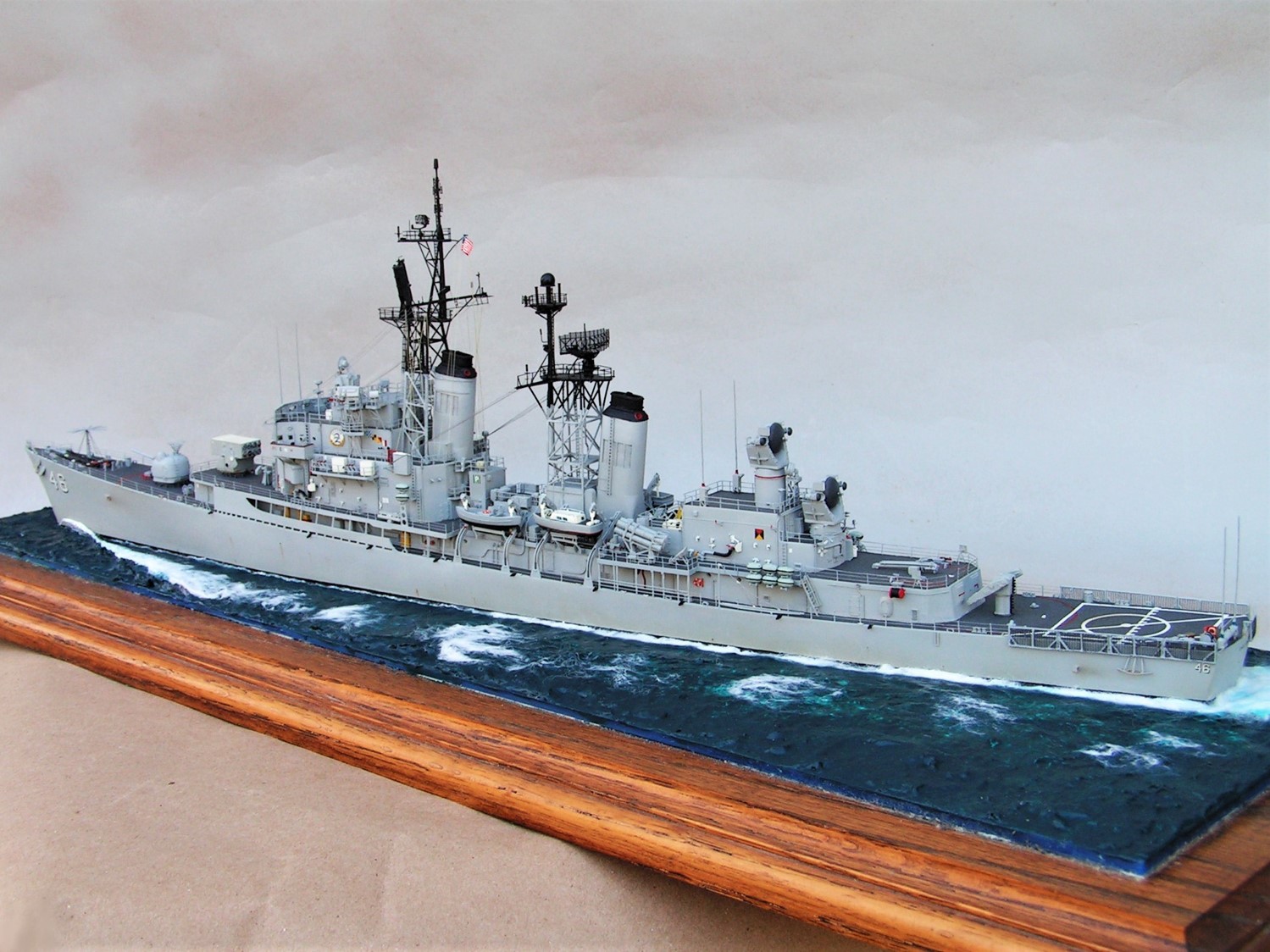 1/311 USS Preble DDG 46 (Scratchbuilt)
The introduction of antiaircraft guided missiles was a high priority for the USN after World War II. The Navy turned to new missile armed large destroyers after the conversions of light and heavy gun cruisers and the construction of USS Long Beach. The original Farragut class design began as a more heavily armed Mitscher class gun only Destroyer Leader but was reordered as missile ships of the Coontz class incorporating the Terrier Missile System. In contrast to the UK Royal Navy classification scheme, USN rated the ten ship class as Guided Missile Frigate. In the Great Reclassification of June 30, 1975, she was redesignated as a guided missile destroyer and renumbered as DDG-46 despite having the same electronics and weapons fit of contemporary frigates reclassified as cruisers.

Launched 5-23-1959 at Bath Maine, USS Preble DLG-15 had the class's last sequential hull number but commissioned on 5-9-1960 before eight of her sisters. She was assigned to the Pacific Coast and except for a major modernization and overhaul at an East Coast yard remained in the Pacific until 1980 (the last of her class in the West). She served in the Vietnam War and the Gulf War, decommissioned in 11-15-1991, and was subsequently scrapped.

This scratch-built 1:311 model was finished in 2004 and reflects her configuration after she was reassigned to Desron 2 when she changed homeport from Pearl Harbor, HI to Norfolk, VA. The model was built with Evergreen sheet styrene and rod of assorted thickness. Except for the 5" 54 cal Mk 42 mount modified from the Revell Forrest Sherman kit; everything else was built from scratch and detailed with stretched sprue. Reference came from official USN plans for USS King DDG41 sold by Floating Drydock and photos on the internet. Lacking sufficient details to replicate the ship on a specific day, the model represents the ship sometime between 1987 and 1990. Testors Light Ghost Gray and Gunship Gray are the main colors. The Desron 2 Insignia and bridge campaign ribbons were scanned, resized, and reprinted with a photo printer. Model railroad decals were used for efficiency awards. The underway replenishment station markings and ship's callsign flags were hand painted on white decal sheet. A painted woman's stocking was used for the helicopter deck safety net. 40 links/inch model railroad chain was used for the anchor chain. The model was mounted on blue plexiglass textured with gel medium and painted with artist acrylic paint finished with gloss varnish. The unmounted model was previously presented in 2004's gallery.


---
Gallery updated 9/11/2023


© ModelWarships.com