USS Fitzgerald, DDG-62
by Ryan Labieniec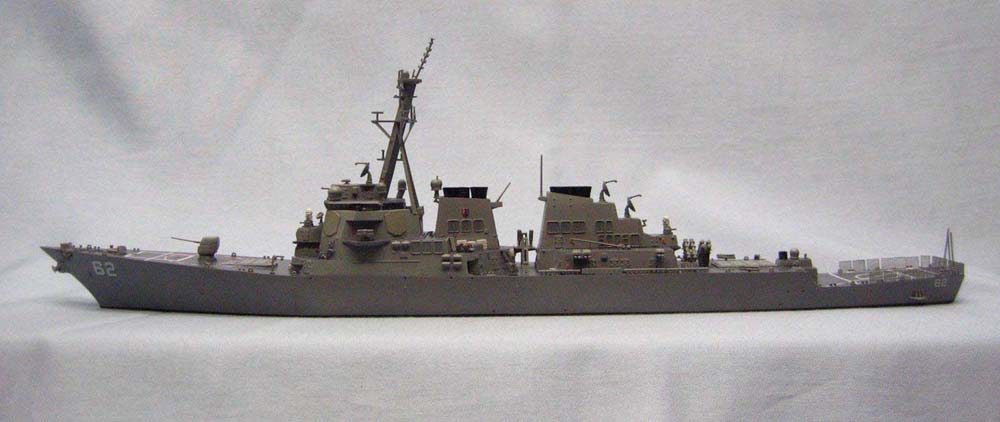 1/350 USS Fitzgerald, DDG-62 (Trumpeter)
This build of the USS Fitzgerald was part of a trio of Burke Class DDGs I was commissioned to build by a current USN officer. The Fitz was built from the Trumpeter Cole kit, with the addition of Veteran Chaff and Nulka launchers, CIWS, and Bushmasters. The # decals are from Hawk Graphics, the squadron crest is from MK1, and the name on the stern was a custom sheet of names done for me by Mark at Starfighter Decals.
The build is different than what I am used to building, in that other than the nets, there is no photo etch used. There is also no weathering, no crew, and it is water-lined, but not in a sea scape. These things were all done at the request of my customer. The lack of weathering kept me honest in the paint process, because any flaw in the finish could not be hidden or blended with the application of some rust or grime, which can be the case if I am weathering a hull.
The build itself, while a change of pace from my usual massive CVNs, was honestly not all that much fun. While these Burke kits are nicely detailed and have a lot of accessories, I think they are over-engineered, and much more time consuming than they should be. It seems that Trumpeter made all of the structures from as many parts as possible, leading to MANY seams to fill, with a fit that is just ok. The fit of the deck to the hull leaves something to be desired, though it is not terrible. I can not speak to the overall accuracy of the model, but it sure looks like a Burke class DDG when finished.
That being said, these Trumpeter kits are the best game in town for a plastic DDG, I started this build using the DML kit, and tossed it in the trash after a couple of weeks, as it was a useless hunk of plastic in my opinion.
Semper Fidelis

---
Gallery updated 2013


© ModelWarships.com