USS Mustin - DDG-89
by Manuel González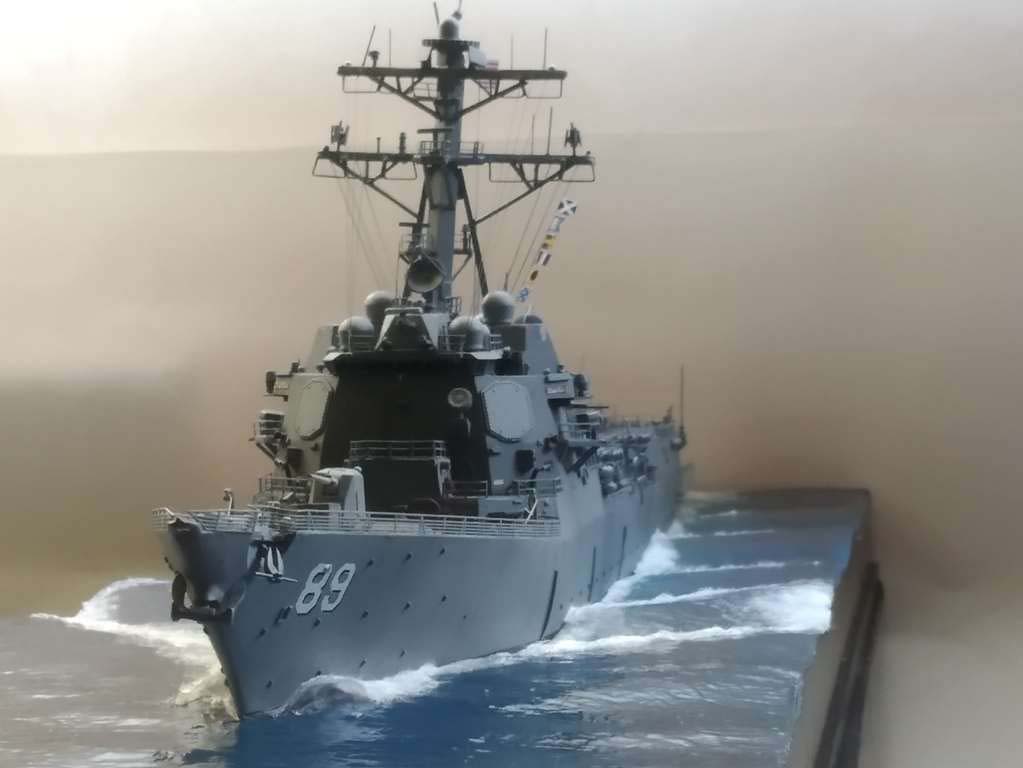 1/350 USS Mustin - DDG-89 (Trumpeter)

I used the Uss Forrest Sherman kit to build this model of the Uss Mustin. Just as I did with the Uss Momsen, I have made numerous modifications to the original kit.

The ship has installed six MK-59 decoy launchers that are installed in projections from the structure of the first chimney and next to the access ladder.
Among the modifications that have been made are the following:
- Anchor chains; lateral platforms for installation of the AN / SLQ-32; loudspeakers installed on the ship, reflectors, navigation radar on the bridge, support of the front WSC-3, supports for the installation of the AN / SLQ-59 systems on the sides of the bridge and the aft antennas that have been made with sprue; platforms for MK-59 lures. The launchers have been made using parts of the kit's harpoon launchers; platforms for SATCOM and WSC in the front chimney; reconstruction of the mast by placing supports and crossbars; supports for ECM installations; torpedo launchers made with hypodermic needles, reconstruction of the boat area, reconstruction of the Phalanx installation; antennas made with fine copper wire; runway reflectors; 2 Bushmasters 25 mm made with scraps and copper wire; minor weapons made with copper wire; aft deck lights made in sprue; fire hoses made with photo-etched sheets, reconstruction of the crane in the boat area and improvements to the boats.

For the painting, a primer was made with a light gray from Humbrol and then Vallejo paints, 70870 (FS36270) were used for the superstructures; 70990 (FS36375) for the main radomes and radars and 70868 (FS36118) for the deck. Effects have been made with pastels and the entire set

The sea is made according to the usual method of gloss mediun and cotton.


---
Gallery updated 11/25/2022


© ModelWarships.com