USS Bagley DE 1069 circa November 1973
by Phil Toy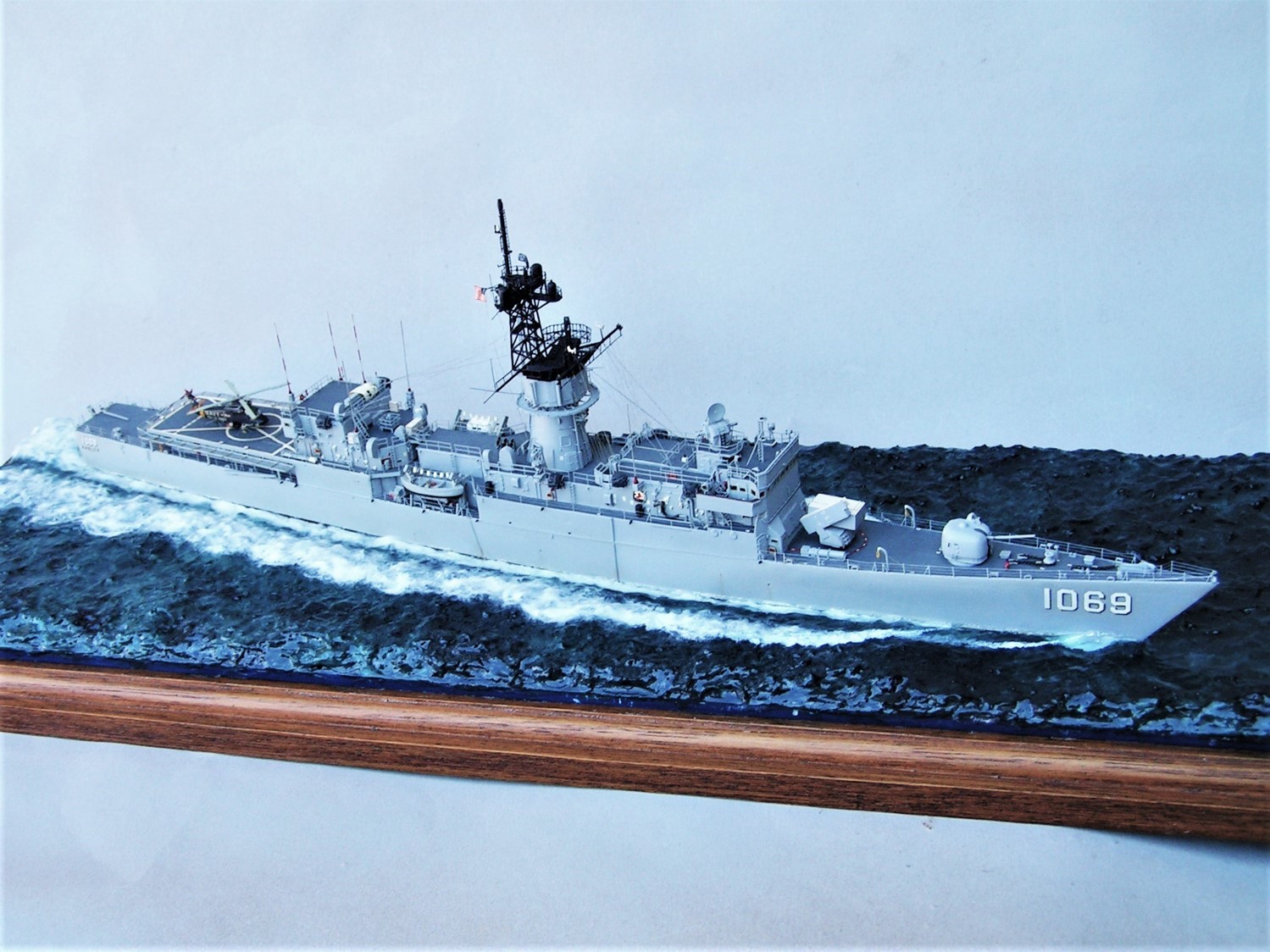 1/311 USS Bagley DE 1069 (scratch built )
The Knox class Ocean Escorts (reclassified to frigate in June 1975) were controversial ships when built. They were criticized by some USN officers for not being "destroyer" enough at a time when they were the only new construction destroyer type being built but loved by some who thought the Navy would be limited to convoying reinforcements to Europe. The Knox Class was the last of a series of four classes of single screw steam powered ASW escorts built around the big SQS-26 sonar and equipped with ASROC and DASH. As the latest evolution of the type, they were bigger, built in larger numbers, and added improved quieting compared to their predecessors. They ultimately ended being treated as 2nd class destroyers when a "hot" WWIII did not happen and included in fast carrier task forces even though limited by a designed top speed of 27 knots.

USS Bagley was the 18th (of 46) Knox ships and the 4th built by Lockheed Shipbuilding and Construction Co of Seattle. She was commissioned on 5-6-72 and was homeported on the West Coast her entire life although deploying to the Western Pacific, Indian Ocean, Persian Gulf, Arabian Sea, Bering Sea, Central American Pacific Coast, and Mediterranean. She saw real combat in the 1988 "Praying Mantis Operation" against the Iranian Navy. She decommissioned 6-26-91 and was scrapped Sept 2000.

This scratch built 1:311 model was built to represent her on her maiden Westpac/IO Deployment Sep 73 to Mar 74. At the time she had replaced her original DASH hanger and flight deck with a hanger and flight deck enlarged for the SH-2 LAMPS Seasprite Helicopter. The original narrow lattice mast atop the MACK was replaced by a wider mast and the aft end of the forward 02 superstructure was extended between the boat storage to provide additional berthing. The transom was opened for the installation of the SQS-35 Independent Variable Depth Sonar and associated hoist. Many features found on other Knox model buildups are not present and would not appear on the real ship until her 1978 refit.

This model was built in 1985. The boats and helicopter fuselage were modified from the Monogram Brooke DEG 1 kit. The 5"/54-cal Mk 42 mount was modified from the Revell Forrest Sherman Kit. The rest of the model was fabricated from Styrene Sheet and rod of various thickness and stretched sprue. The anchor chain was purchased from a model train shop. Testors Model Master Enamels were used. The final Dullcoat finish has yellowed over the years and the white hull numbers had to be re-decaled. The SH-2 helicopter was painted in the markings of the HSL-33 Seasnakes aircraft embarked on the ship's first deployment per her cruise book. The DesRon 31 Insignia was hand painted on ship's squadron shield. The original seascape was replaced using a newer technique incorporating cotton and Liquitex Gel Medium.

Phil Toy
---
Gallery updated 3/18/2023


© ModelWarships.com