USS England DE-635, 1944
by Ed McDonald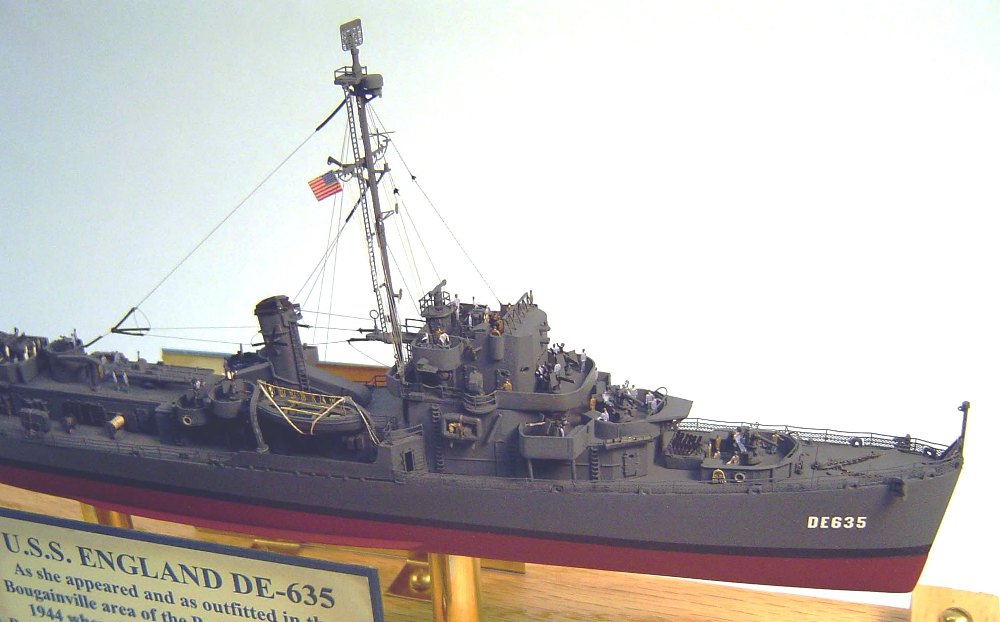 1/350 USS England DE-635, 1944 (Trumpeter)
This is Trumpeter's 1/350 USS England DE-635 as she appeared in May of 1944 when she set a record by sinking 6 Japanese submarines in 8 days.
This is an excellent kit that is a true pleasure to build. And, there are exactly 102 Buckley class DEs that can be built from this kit. You may have to recall what was required to build a kit a few years ago – such as some flashing removal and mold seam filing. But, parts do fit each other perfectly, the instructions are 100% clear and correct, there are no unmentioned or incorrectly numbered parts, unwanted molded on ladders (even ALL the arbor heads) and such were easily removed and replaced. As with most older kits, some items were absent (3" practice loader, ship's compass, ship's bell, jackstaff, etc.) or needed replacement by more accurate representations. The GMM PE set is an excellent enhancement.
Items used:
Trumpeter 1/350 USS England kit
Gold Medal Models USS England PE set
GMM generic doors and hatches set for doors, hatches, fire hose reels, life rings, etc.
GMM generic ladders set for additional ladders & deck mesh on flying bridge
GMM floater net basket set for screens on ventilation intakes
Yankee Model Works 24" search lights and 12" signal lights (replaced kit's)
YMW PE lookout chairs on flying bridge (replaced kit's)
Dragon Models extra pelorus on flying bridge (replaced kit's)
L'Arsenal MK51 director (replaced kit's)
L'Arsenal whaleboat (replaced kit's)
Assorted brass and styrene sheet and rod for countless scratch built details
Scratch built items include:
Interior of flying bridge - mesh platform, pelorus, doors, starboard entry from chart house below, rails, ladders, captain's chair, windshield and supports, etc.
Stack footrails, platform rails, antenna wire brackets and ship's horns, etc.
Support posts under several overhanging decks
Assorted detail on gun tubs and bulkheads
3" practice loader (not included in kit)
Ship's compass (not included in kit)
Running lights (not included in kit)
Amidships inclined ladders (not included in kit)
20mm barrel cooling tubes
Assorted vertical and rung ladders
Roller rack and K-gun depth charges
More depth charge arbor heads than I care to remember
Replaced kit's mast with scratch built from brass rod, GMM PE and a bit of styrene and brass.
Rigging (stays, halyards and antenna wires) including attachment turnbuckles, eyebolts, antenna insulators and antenna lead-ins.
Ship's bell (not included in kit)
Replaced kit's poor Mk51 director with an excellent quality resin and PE L'Arsenal Mk51
Enhanced (with PE and styrene) the kit's 3" and 1.1" guns (in addition to the GMM PE set detail)
Replaced kit's boat with an excellent quality resin and PE L'Arsenal whaleboat and relocated aft davit so boat could be mounted "swung in" rather than "swing out" as designed in the kit.
Enhanced detail inside life rafts
Added ammo cartridges on 20mm guns
Jackstaff (not included in kit)
Total construction time was 130 hours.
References:
Navsource photos of USS England and sisters
Destroyer History Foundation photos of USS England and sisters
USS Slater museum photos
---

© ModelWarships.com