Kriegsmarine Z13 Erich Koellner
by Stein Gildberg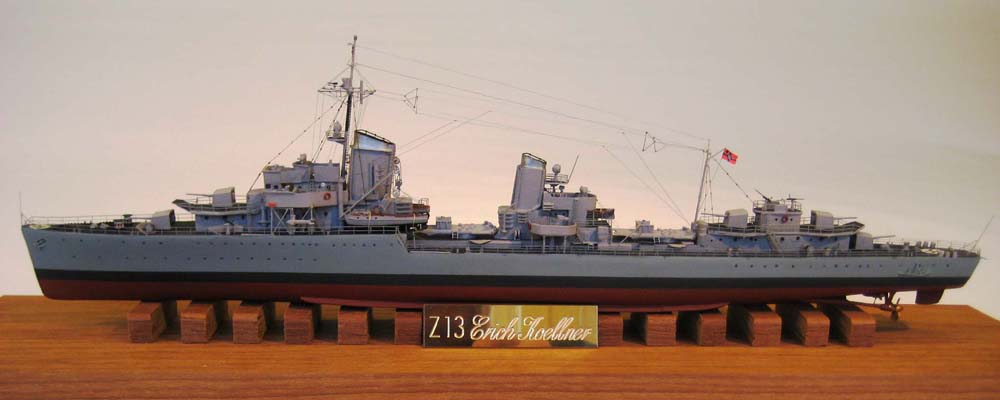 1/350 Erich Koellner Z13 (ISW-mod)
This model of the Zerstörer (Destroyer) Z13 Erich Koellner, is build from an Iron Shipwrights 1:350 resin model. Z13 is of the type 1934a, and was one of 10 German Destroyers used to occupy Narvik, Norway 9th April 1940. All the ten Destroyers (5 of type 1934/1934a, 5 of type 1936) were sunk in the Narvik area in successive sea battles 10th and 13th April. Some of the wrecks were broken up after the war, but most of the ships remain on the sea bed in shallow water, available for diving.
The Iron Shipwright resin set is basically very simple neither with much detail nor very accurate, so much effort was put into the study of source material, drawings and photos. Several/most components and parts were best cut away and removed or changed for more accurate plastic parts. This includes the entire area from the bridge level and up as well as the structure behind the aft funnel.
PE is primarily from White Ensign as well as some from other suppliers. Ships boats and paravanes from Dragon. Guns, AA, torpedo tubes, fire control, searchlights etc from Trumpeter. Boat crane, masts, all platforms, supports and lots of smaller items built from scratch. Paint is White Ensign Kriegsmarine series plus some Revell. All rigging is stretched sprue.
This is, I believe, currently the only sensible way to seriously build a Zerstörer type 1934/1934a in 1:350 as all the new German Destroyers from Dragon and Trumpeter are type 1936a to 1936b (Mob), having major changes in hull shape and form compared to the type 1934/1934a.

---
Gallery updated 2012


© ModelWarships.com