HMS Nubian, spring 1941
by Anthony Polychroniadis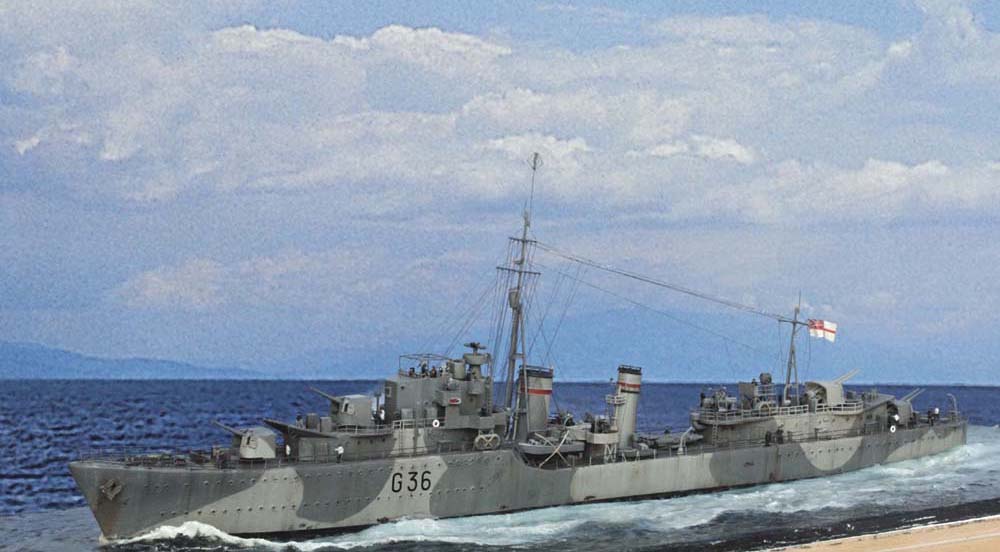 1/350 HMS Nubian, spring 1941 (Trumpeter)
HMS Nubian was the most decorated Tribal Class destroyer, having been awarded 13 battle honours -only one less than Warspite. She survived the war and was scrapped in 1949. My model represents the Nubian as she appeared in the spring of 1941, in her original fit, before she had her stern blown off in the Battle of Crete in May and had her first refit in Bombay that summer.

I have been following with interest the discussions regarding RN colours in the Camouflage Section of MW, and chose to depict her the disruptive scheme she was wearing at that time in Home Grey/Mediterranean Grey. The scheme was recreated from photographs kindly provided to me by a fellow member of MW, which confirmed that the scheme illustrated in Alan Raven's Warship Perspective was not entirely correct.

Even though it was great to see Trumpeter producing 1/350 Tribals in plastic, the kits need a substantial amount of work to make them look like the originals. Most needed corrections have been discussed in the relevant Calling All Ships Fans thread in this website. To reiterate the basics, one needs to raise and correct the bow and reposition the anchor hawser holes and replace all armament with aftermarket parts (thankfully available, some in resin and some by 3d printing). From there on, decide on a time frame and fit, as the ships evolved over the years.

As I like my ships on a seascape, the wear is intentional in an effort to increase realism. All I will say is that I always think It will be better next time!...
---
Gallery updated 6/16/2017


© ModelWarships.com