HMS Tartar 1944
by Phil Reeder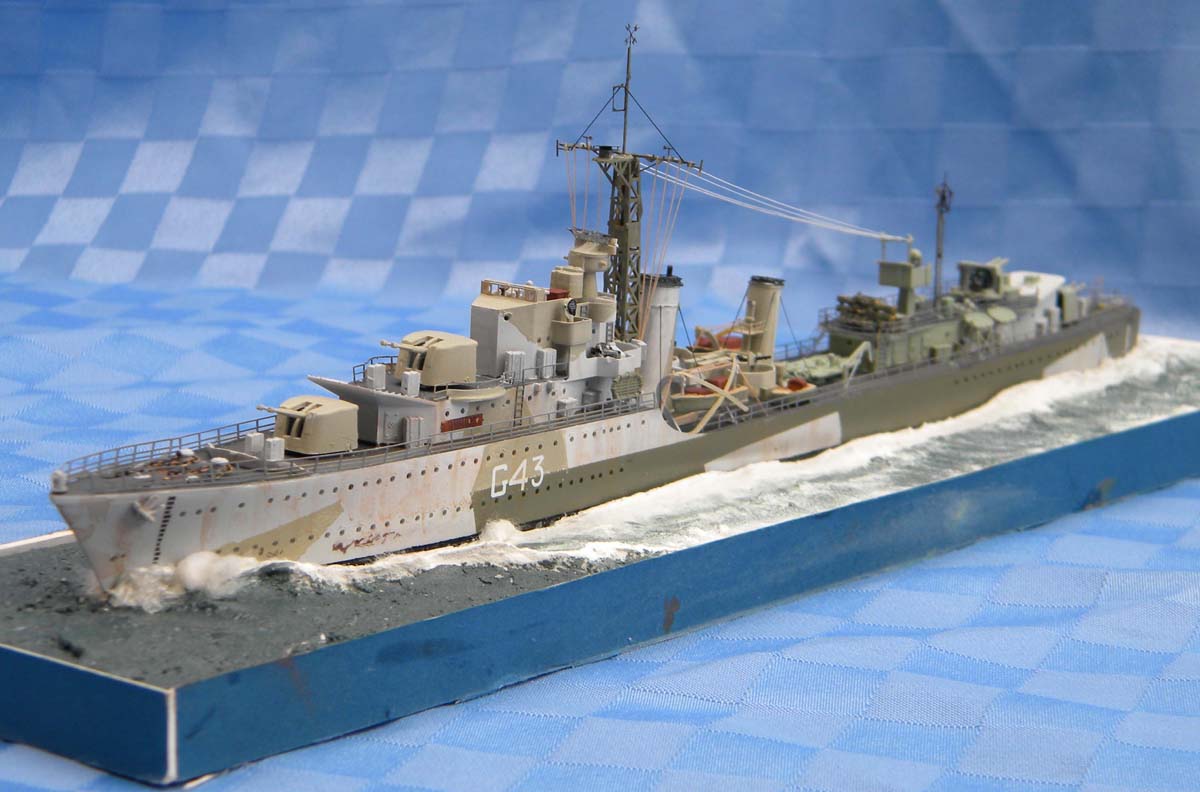 1/350 HMS Tartar 1944 (Trumpeter)
The Tartar was one of only four RN Tribals to survive the war. Thoughout the war she was in the thick of the action, including Norway ,the Bismarck action, and many arctic convoys. She ended up in 1945 with the Eastern fleet ,and in May 45 sank a Japanese Transport and sub-chaser. She was scrapped in 1948.
The recent addition of the Trumpeter Tribal to their range has filled a gap in the RN WW2 vessels. The kit is not without its faults ,but it provides a good basis for improvement.
Starting with the corrections to the kit ,these are as follows:
1) The sheer at the bow is set too lower ,I raised the main deck by 2mm and filled in the sides with plastic (see here).
2) The kit motor boats were replaced by some WEM offerings from my spares box
3) The kit includes a pom-pom with 8 barrels, however the actual mounting is the correct size for a Quad mounting, so all I did was to remove the two outermost barrels on both parts, which seemed to work well.
The wartime mods are as follows:
1) "X" 4.7" mounting replaced by a 4" twin left over from an old Skytrex kit
2) a new DCT at the rear of the bridge replaced the open one from the kit. I used a left over from a very old Heller Illustrious build .The Radar aerials were from my PE spares.
3) Single 20mms replaced the 0.5"mgs on the midship platform, and two additional twin 20mms mounts were added to the bridge wings and after deckhouse
4) DC Throwers moved to main deck level ,just aft of the Pom-Pom mount
5) The tripod foremast was replaced with a PE lattice mast ,this is from the PE included in their Tribal kit
6) Shortened the aft funnel by 0.10"
7) Aerial spreader added to the s/l platform
In conclusion I can say it was an enjoyable experience building this kit ,and it is not as some have described it, which I think is grossly unfair!!

---
Gallery updated 2013


© ModelWarships.com