IJN Ushio, Fubuki Type II destroyer, 1944
by Dan Kaplan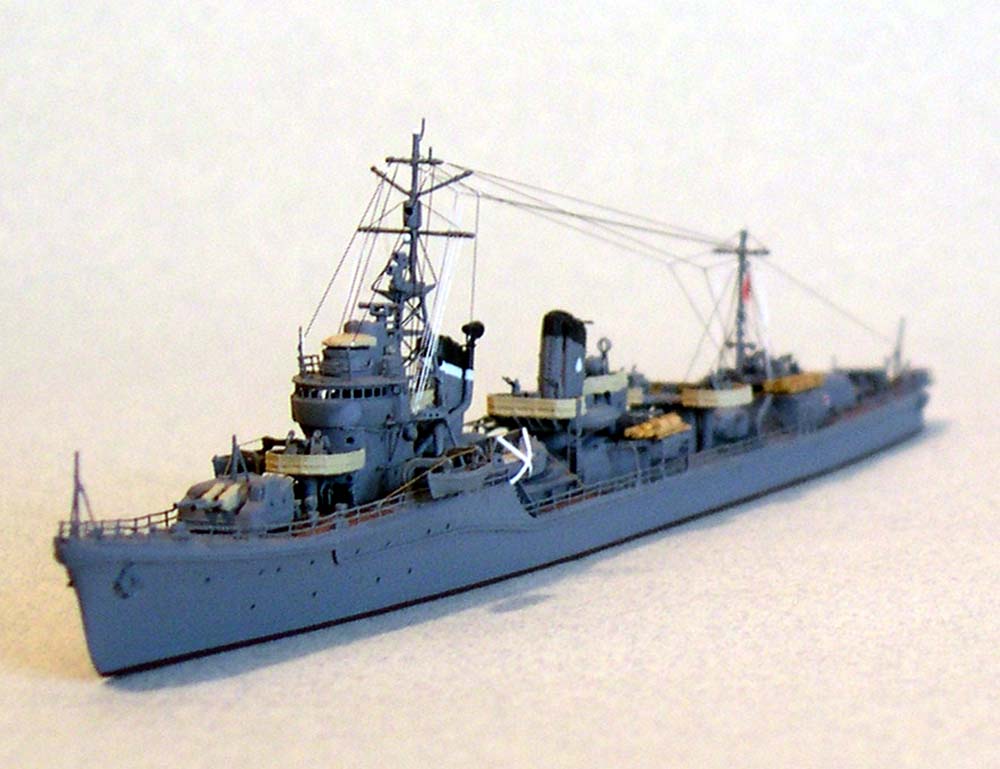 1/700 IJN Ushio, 1944 (PitRoad)
This is Ushio, another Fubuki Type II destroyer, in her late war fit.
Ushio's war record was long and notable, beginning with the shelling of Midway Island on December 7th, 1941 (with division mate Sazanami), participating at the Java Sea, the Coral Sea, the Aleutians, the Guadalcanal campaign, Surigao Strait, countless escort missions, occasional battle damage and surviving the war, albeit with a damaged engine. Ushio is quite rare in that there are a fair number of photographs that document her appearance throughout the war, including her late war and post war configurations.
The last four Fubuki Type IIs (DesDiv 7 - Ushio, Oboro, Akebono, & Sazanami) were built with some distinct modifications that separate this group from the previous six Type II units. Among them were slightly shorter funnels & a revised air intake at the base of the funnels with a swept up sort of "ducktail" appearance. The torpedo tube shielding was also slightly different. Some streamlining of the spotters enclosure atop the compass bridge also appears to have taken place. Most of these changes were carried over to the subsequent four Type III ships.
The PitRoad 1/700 Shikanami kit was used as the basis for Ushio. The Type II kits from PitRoad (Ayanami & Shikanami) probably require the least amount of work among their Fubuki type kits in order to accurately depict their Type II forebears, but, again, nothing is perfect.
The stern mine rails need to be straightened for an early war appearance and the practice loaders (2) removed from the forecastle and (1) relocated towards the stern. The kit comes with two different sized (for height) funnels. Both options are correctly sized and shaped, depending on the actual ship but, the funnel caps/grills don't match up and the air intakes at the base of the funnels still require more shaping to appear correct, regardless of ship. The same is true of the forward 25mm mount platform.
As with my previous build of Shirayuki, the torpedo mount shielding required quite a bit of work to shape them correctly. An RDF compartment was added to the rear of the searchlight set-up. The mine rails were removed and replaced with depth charge roll off racks and tracks. A proper single athwart ship depth charge rack and a degaussing cable were added as well.
This was my first opportunity to incorporate any of the new FineMolds 1/700 NanoDread line of accessories. Here, the 25mm AA weapons, 7m cutters and a 90cm searchlight were used. All I can say is that the detail and scale is outstanding. I've never seen anything like it in 1/700. PE versions can no longer do justice to the AA.
Brass rod was used for the masts, main gun barrels, aux. piping, jack staffs, and antenna. I also replicated some of the electrical cabling that seems so prevalent in these types but, I can't say that it is so obvious in the photos.
Painted in Kure Grey, hull red & IJN linoleum using Tamiya Paints
---

© ModelWarships.com