IJN Yukikaze
by Rainer Michalek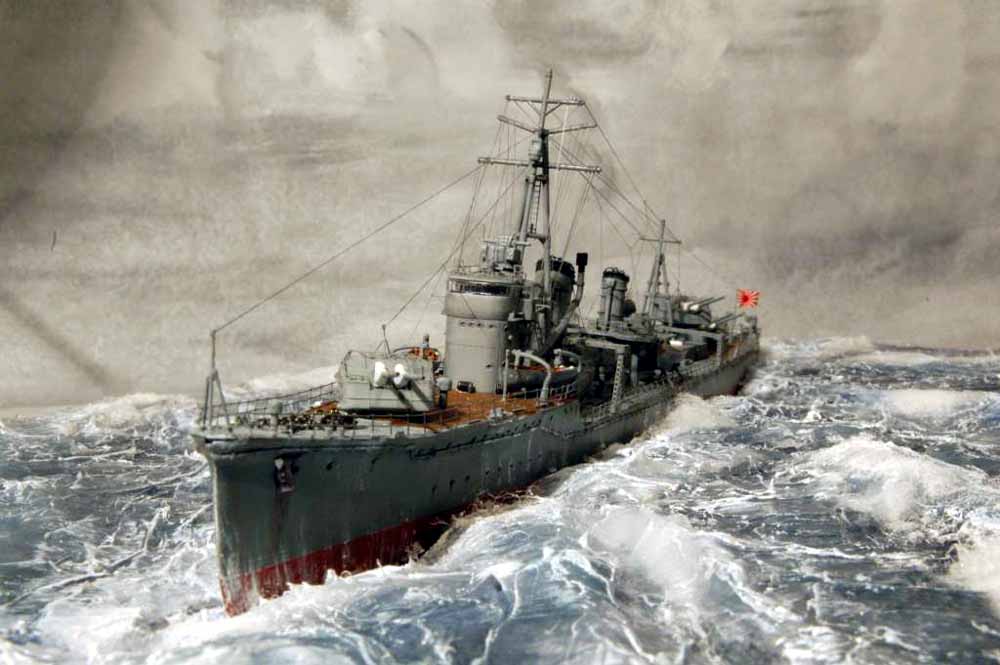 1/350 IJN Yukikaze, 1942 (Hasegawa)

.
Kagero Class Destroyer (Koh Type)
History:
The vessels of the Kagero class outwardly looked very to those of the Asashio class, yet as they were designed without treaty restrictions they actually were derived from the Fubukis. Due to the experiences gathered with preceding classes, issues with machinery and stability could be avoided. They were some of the best contemporary destroyers, despite their deficits in anti-aircraft- and anti-submarine armament (which were remedied later) and poor radar and sonar equipment (which were generally weak spots in Japanese vessels).
18 vessels were launched between 1936 and 1940. Yukikaze´s keel was laid at Sasebo Navy Yard, she was commisioned on 20 January, 1940. She first served in the Philippines. Late in 1942, she served in the "Tokyo Express" in the Solomons, running reinforcements to Guadalcanal. With a lot of luck she survived all her service with only light damage, even though – as their escort - she witnessed the sinking of the battleships "Hiei" and "Kongo", the fleet carrier "Shinano" and the super battleships "Musashi" and "Yamato". As only vessel of the Kagero class, Yukikaze survived the war. Ceded to the non-communist Chinese, she served as the largest vessel of the Taiwanese navy until 1970, when she was scrapped. During the war, five ships were sunk by surface ships (mostly near the Solomons) and not less then three sank after mine damage in Blackett Strait. The rest fell victims to aircraft and submarines.
Technical data:
Dimensions: Length 118.49 m Width 10.82 m Draught 3.75 m
Displacement: Standard displacement 2,033 tons. Maximum displacement 2,529 tons. Propulsion: 3 boilers, 2 turbines – 52,000 hp on two shafts. Speed 35.5 kn
Range: 9,200 nm @ 15 kn
Armament: 6 x 127 mm in three twin turrets / 4 x 25 mm in 2 twin turrets, 8 x TT 610 mm in 2 quadruple turrets, 16 depth charges / from 1943 on 4 x 127 mm in 2 twin turrets / 18-24 x 25 mm / 4 x 13 mm 8 x TT 610 mm in 2 quadruple turrets 16 depth charges, crew 239 men.
The kit:
Hasegawa´s Yukikaze kit is a true benchmark other companies should strive for. The kit consists of 177 parts in injected plastic and clear parts. The clear sprue contains the H8K2 "Emily" flying boat. No fit issues can be found. All parts are excellently detailed. Putty and sandpaper may be left in the drawer. Assembling the decks is a real highlight of the Yukikaze kit. The hull presents itself without a seam, making any modeler's heart beat faster. In 18 steps, a clearly laid out plan leads us to the goal. A bountiful decal sheet also on board, comprises ships´ names, flags, lettering for the display and lifeboats as well as three versions for the "Emily" flying boat. Colour callouts are listed in GSI Hobby-Color and Mr. Color. Language Japanese, English.
Assembly:
As the parts are molded free of flash, assembly is done fast, as tedious sanding and filing is not necessary. If a PE set is used, things become time-consuming. I chose to use the Lion Roar PE set. The model of Yukikaze was modeled from stem to stern, integrating all the details into the model. The rigging was made from stretched sprue and tightened with heat.
The model was painted using Revell and White Ensign Models Colourcoats (WEMCC). The model was weathered using Tamiya Black and Vallejo Cavalry Brown. The 127 mm gun barrels were supplied by (BMK) Burkhardt Masch Kleinserien. The H8K2 "Emily" sprue gives the opportunity of creating a small diorama. some L´Arsénal figures complete the model.
Finally, Yukikaze was placed in a troubled sea which was set in scene using silicone and cotton wool. As usual, the highlight in creating water is drybrushing with oil paint.
Conclusions:
This is a very nice kit, resulting in a great model even if built out of the box. Together with the "Emily" it builds into an attractive diorama. It is good value for money as you get a lot of modeling fun for 55 Euro. Those that want to get even more out of this well-fitting model will have to spend more on the PE set.
---

© ModelWarships.com