KuK SMS Planet 1889
by Jim Baumann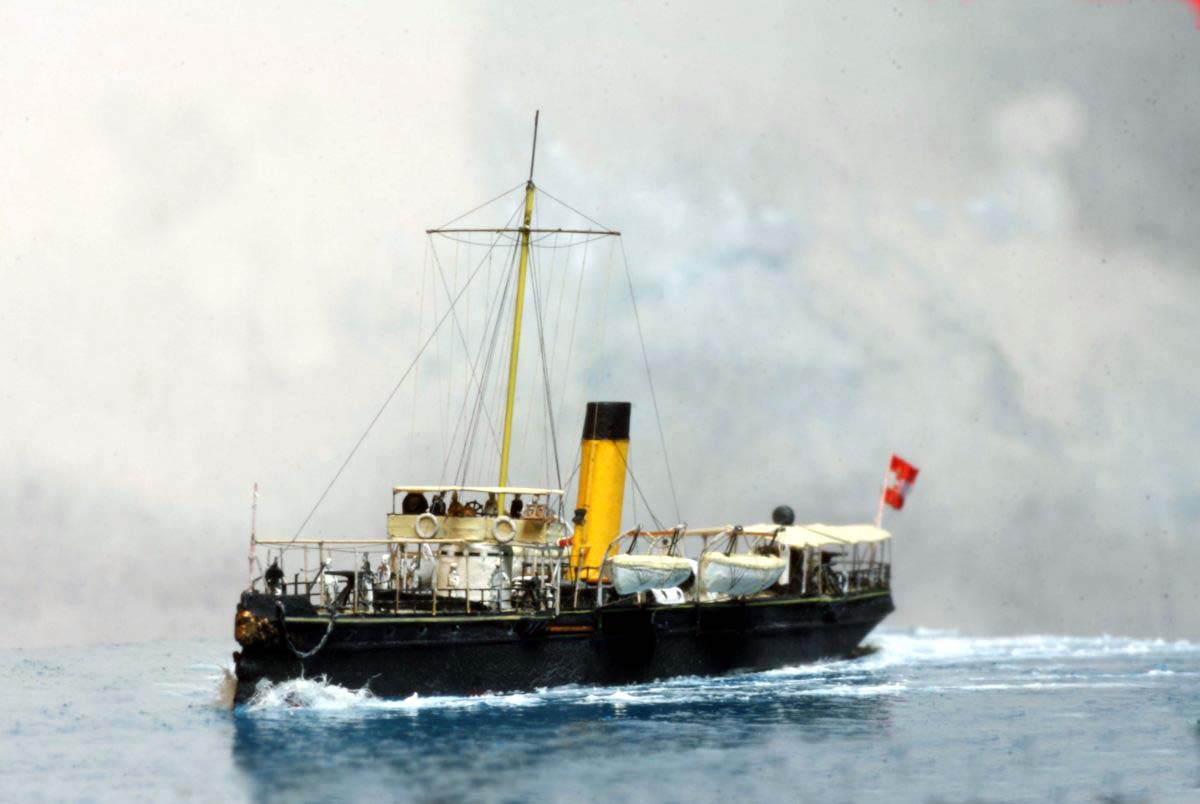 1/700 KuK SMS Planet (JB Models Eu)
KuK SMS Planet 1889
The Austro Hungarian Navy of the latter part of the 19th Century had its torpedo boats built by foreign shipyards, mainly in England and Germany.
The 525-ton SMS Planet was built at Palmers Shipyards in Newcastle, England. Once commissioned into the KuK Navy ,Planet was made Flagship of the Torpedo Boat squadrons.
Most of the KuK's torpedo expertise was garnered by the training of Officers and specialist personnel aboard Planet.
Advances in technology over the years rendered her increasingly obsolescent and she was relegated to secondary roles.
At the outbreak of World War one she found herself as member of the 7th Torpedo Boat Squadron coastal defence force based at Pola.
At the end of hostilities SMS Planet was ceded to Italy; however being elderly and rather worn she saw little use and was scrapped in 1920.

Loa 220ft (67.1 m)
Beam 23ft (7.oo m)
2 x 66 mm
8 x 47 mm
2 x TT
84 Officers and men
19.6 knots
The model as based on the resin kit manufactured by JB Models of Vienna. The kit featured much very fine Photoetch and a finely cast hull and some finely cast resin parts.
I elected to research further in my KuK books and found some useful additional photos that enabled me to modify, scratch-build and change a number of detail parts to reflect the early period of her career I chose to model. I added the prominent strakes made of copper wire and after painting applied the fine yellow line along the hull sides, which were made of, stretched (yellow!) sprue affixed to the hull with matt varnish.
Various small details were gleaned from photos—but perhaps the most distinctive feature of this model is the large sun-awning over the after deck.
This was made using the awning poles I had already fitted, adding the cross braces of fine brass wire and encircling the outer perimeter with thick stretched sprue. The resulting square apertures were filled in using thinned white glue applied with a soft longhaired 'Rigger' artist's watercolour brush.
Once dried it 'hollowed' out nicely between the frames —much as real canvas does when tensioned,
An elegant small ship from an era when some warships resembled the steam-yachts of their day….
The kit provides a great springboard to a fine and distinctive model; SMS Planet fits nicely into my esoteric collection!
---

© ModelWarships.com