Chinese Navy DDG 139 Ningbo
by Wim Verbist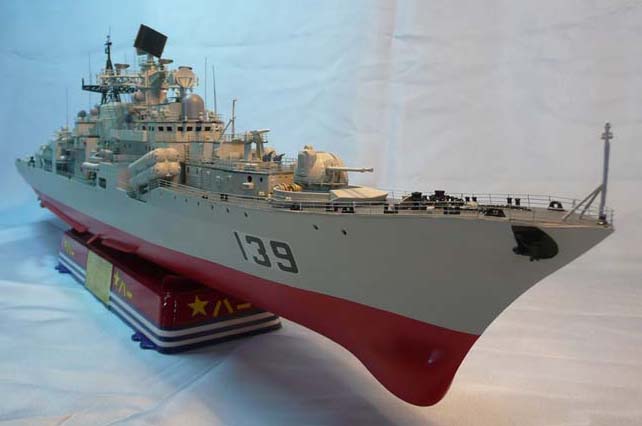 1/200 Chinese Navy DDG-139 Ningbo (Bronco)
The 'NINGBO' is an improved russian 'Sovremnity' class destroyer for the chinese navy. The defense and attack system is reportedly much better than the old 'Sovremnity' 956E class destroyers. The 'Sovremnity'956EM is armed with an improved 3M80M version of the Moskvit anti-ship missiles with a longer range. The main difference between the two is that the missile launching tubes on the chinese destroyers are longer than the ones on the russian ships to accommodate the increased size of the newer missiles. These launching tubes can be used to fire/store the original 3M80 as well. Moreover, the major difference outlook between both types is the helicopter hangar and the rear part of the ship. The DDG 139 'Ningbo' is the second ship of the new Sovremnity Class type 956EM destroyers. The first ship is the DDG 138 'Taizhou'.
This kit is the first Bronco model that passed through my hands. Compared to kits such as Tamiya, Hasegawa, Revel l and others, it was not an easy-to-assemble, everything-fits-kit. On the contrary, many parts had to be adjusted, entire decks and bulkheads/walls had to be shortened in order to make them fit together. Bronco also added photoetch railings with stanchions that required drilling holes for each stanchion, an impossible job that I abandoned after struggling for hours on the few railings of the monkey-bridge alone. I therefore ordered railings from GMM which were easy to handle with a much better result.
It would have been nice to have photoetch parts of the radar and I don't understand why any flag was included. I therefore painted the standard, supporting the model, entirely in the chinese navy colors in order to create a genuine chinese navy ambiance. I started this model more than a year ago, then abandoned the project during half a year due to lack of motivation resulting the inferior quality of the product and made a few smaller models during this time, and finally resumed the construction 3 months ago, until it was completely finished.
The result is all together quite satisfying.

---
Gallery updated 2012


© ModelWarships.com