Destroyer Muavenet-i Milliye, 1915-1918
by Marcello d'Andrea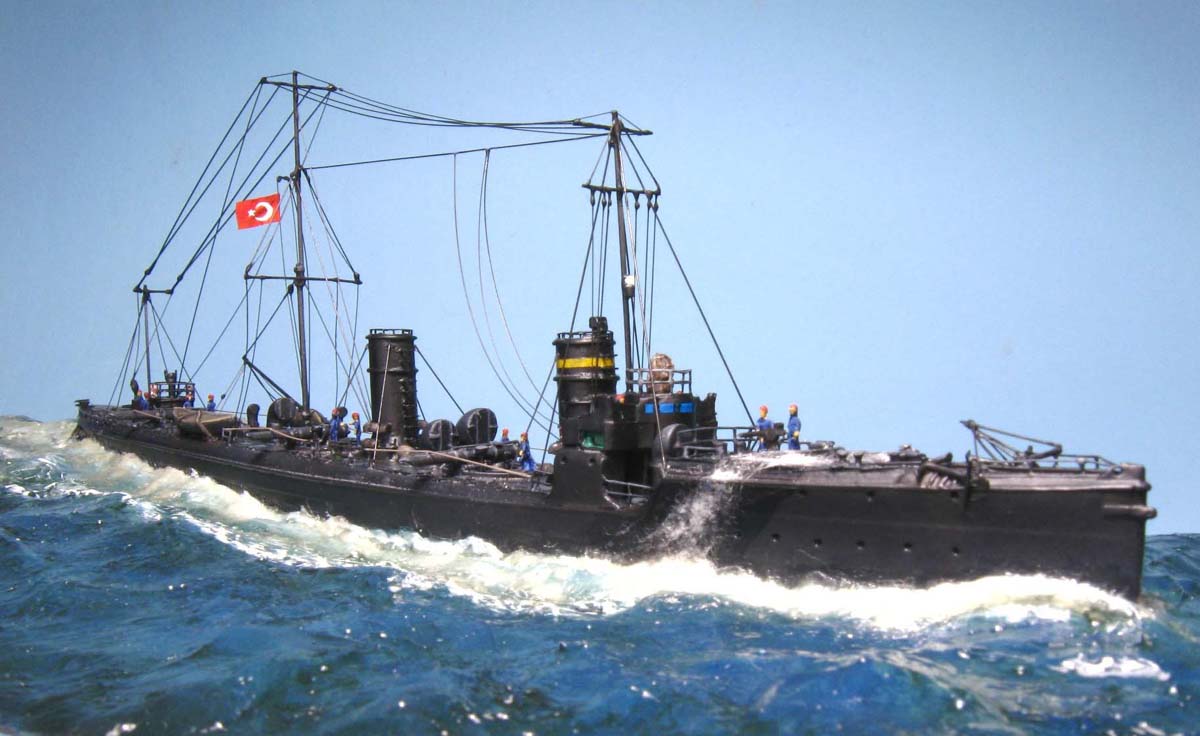 1/350 Destroyer Muavenet-i Milliye (Scratchbuilt)
Ottoman destroyer Muavenet-i Milliye in 1915-1918, scratchbuilt (wooden hull covered in plasticard) in 1/350 scale, with spare photoetching railings, stairs and ladders.

Muavenet-i Milliye is very famous in naval history for sinking, during the Dardanelles Campaign in WWI, the British battleship HMS Goliath on May 13, 1915. It remained in service until 1921 and was then converted into a floating storage and demolished in 1953. Muavenet-i Milliye belonged to a series of 4 ships launched in 1908 at the Schichau shipyard in Elbing (East Prussia, Germany) as Grosse Torpedoboot S 165-168 and all acquired by the Ottoman navy in 1910 (Muavenet-i Milliye, Yadigar-i Millet, Numune-i Hamiyet, Gayret-i Vataniye). Soon after the Schichau shipyards launched a second series S 165-168, which remained in the German imperial navy. Until now, the two series of ships (the first going to Turkey and the second remaining in Germany) have always been considered identical. All the scale models, Turkish ships as well as German ones, follow the construction plans reported in H. Fock: Schwarze Gesellen, Band 1: Torpedoboote bis 1914, Herford: Koehlers 1979. However, a comparison of the historical photos of Turkish and Germanic ships allows us to confidently state that in reality the two construction series were different in important details.


The position of some ladders and windsocks, the shape of some superstructures were clearly different, so much so as to easily identify the ships belonging to the first series (which later went to Turkey) from those of the second series (which remained in Germany). Finally, the Turkish ships installed the tallest masts and an additional small mast in the stern shortly after entering service, for a system of radio antennas different from those used on German ships; an equally identifiable detail in the historical photos.
Marcello d'Andrea
---
Gallery updated 9/15/2021


© ModelWarships.com