Amphibious Task Force
by John C. Goodacre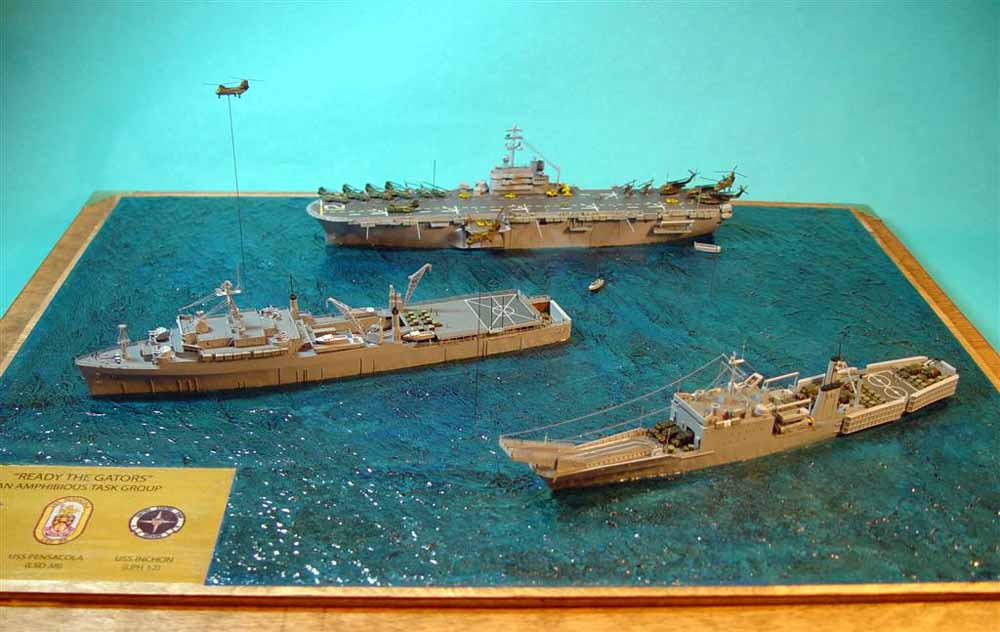 1/700 US Amphibious Task Force (JAG/Pit-Road)
USS Newport LST 1179 (JAG), USS Pensacola (LSD 38), and USS Inchon (LPH 12)
The attempt was to make an Amphibious Task Force in the early 1970's. Three CH-46s are heading to the beach while Marines are loading the LST and LSD in order to get ready to get underway.
Photo etch for the models are from Gold Medal Models. Jeeps, UH-1, and AH-1 are from WEM. The trucks, LVTs, lift rafts, tugs, LCUs, and CH-46 are from JAG. The CH-53s are Pit Roads.
The deck markings are custom decals as well as the "MARINES" and Bars and Stripes on the helicopters. Also decide to make LSD well deck boards with decals, in order to keep to close scale. The LCU in the well deck is scratched built.
Once again some of my biggest references were to fine folks at Modelwarships and Steelnavy.
---

© ModelWarships.com