Doolittle Raid
by Andy Bradshaw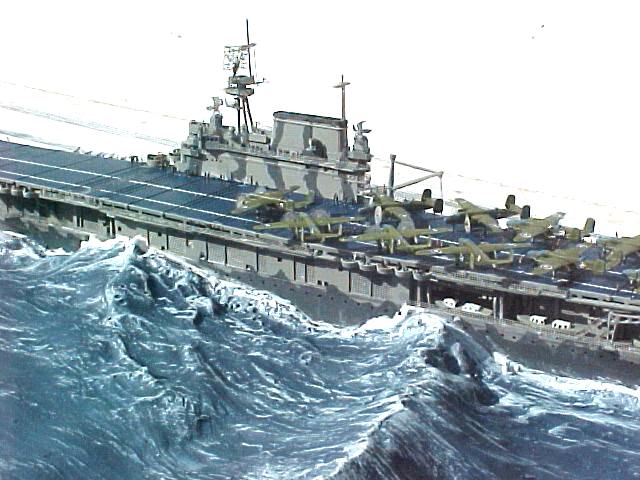 1/700 Doolittle Raid (Tamiya)
This is the second 1/700 scale Doolittle raid diorama I have built. It's a Tamiya 1/700 Hornet, and an Indianapolis kitbashed to a Northampton. It is on display aboard the USS Hornet (CV12) in Alameda, California. It has been the centerpiece for two Doolittle Raiders reunions. As a kid in the 70's I was introduced to Jimmy Doolittle by my grandmother- 'turns out they were beaus in Seward, Alaska in the early teens of the last century. I spent many hours in the company of the great man, and his wife, Jo.
I said the second incarnation- the first diorama went to the son of Bob Doyle, pilot number ten on the raid. I am doubly honored with these models.
The Hornet is the basic Tamiya kit, with photoetch details added. The converted Indy was based on plans supplied with the photoetch from Tom's Modelworks, and other reference sources. The seaplanes on the Northampton are converted Japanese seaplanes.
I wanted to capture the impact of the moment Jimmy's Mitchell left the deck of the Hornet. A tribute to my seascaping skills came from a retired Navy AD pilot on the Hornet- he said "I can't look at it anymore; it's making me seasick".
---

© ModelWarships.com