HMS Boxer 1908 Portsmouth Harbour
by Chris Smithers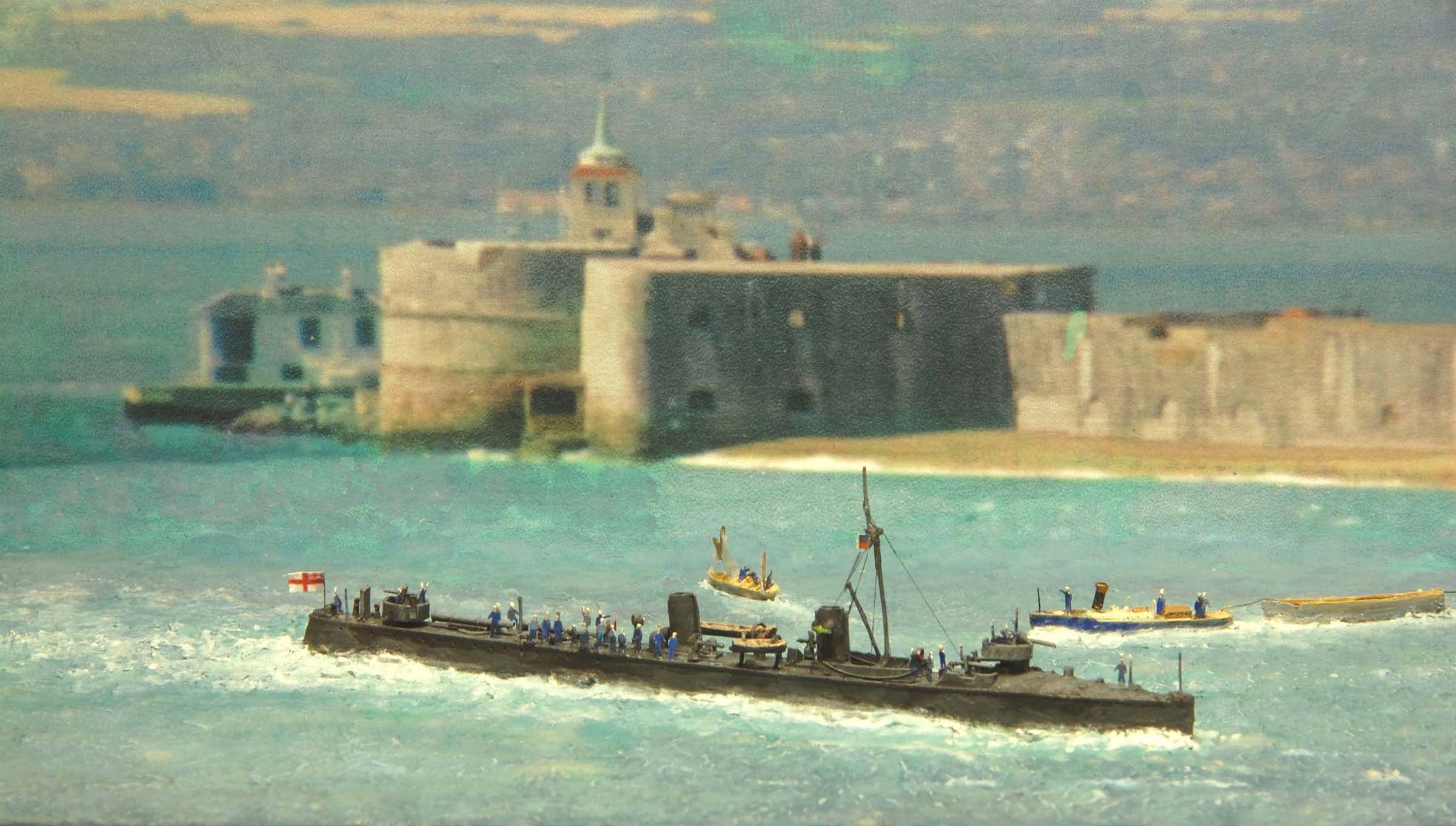 1/700 HMS Boxer 1908 (Combrig)
Portsmouth Harbour June 1908 and the rather weather-beaten, hard-worked and sea-weary TBD (Torpedo Boat Destroyer) HMS Boxer steams out for exercises off the Isle of Wight. She was built by Thornycroft in the 1893-94 programme of 27-knotters.

She is flying the International Signal Code 'E' – I am directing my course to starboard - while the signaller on the forward gun platform uses semaphore flags to display 'E'. The ship is heeling a little to port during this manoeuvre.

It's a bright, sunny day with a bit of haze and a lively South-Easterly breeze which is kicking up a bit of a chop on the water.

A pre-dreadnought battleship anchored at Spithead is having two of its boats replaced, the old ones being towed to the dockyard by the ship's steam picket boat. She is steering a course for the destroyer's stern so as to pass behind it. Meanwhile, a whaler engaged in sail training is keen to exit the busy shipping channel and is on a reach to the NNW.

The model of HMS Boxer is derived from Kombrig's HMS Ardent, a sister ship which served her life in the Mediteranean, painted white and yellow ochre. HMS Boxer, painted black overall, spent her career based in the English Channel and North Sea.

To relieve the black I have picked out as much colour as I can – green steaming light, red ventilation cowl interiors, boat interiors, crew and flags. Unusually, I didn't check out any TBD forums or online images – my sole reference was 'The First Destroyers' by David Lyon.
---
Gallery updated 3/28/2023


© ModelWarships.com