HMS Legion in drydock
by Chris Hewitt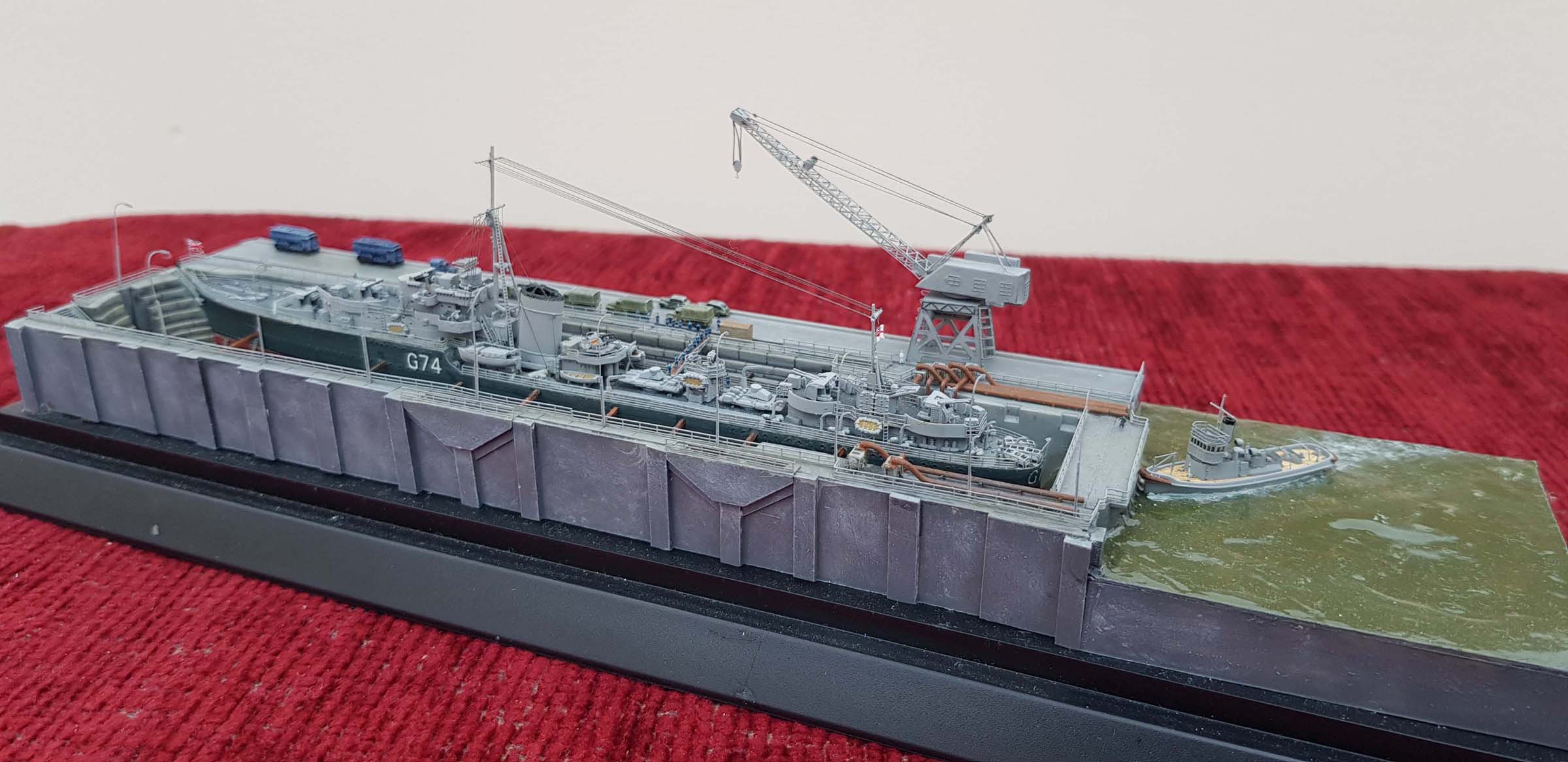 1/700 Drydock (Snowman/Flyhawk/Rainbow/Starling Models)
I started with the drydock from Snowman ,one of those small models companies that has popped up from China, they are hard to buy now, luckily another company called Takom is now the producing the same kit. The destroyer HMS Legion is produced by Flyhawk and they need no introduction ,they have set the very high standard for plastic kits made these days.

I built the dock and it comes has if it should be built within a dockyard ,I wanted to be a separate unit so to had to fill all the edges with plastic card and then added a small bit a sea with a small tug which comes from Rainbow, very nice little kit. The dock comes with civilian cars and trucks and a lovely crane. This is a American dock and Snowman produced a very highly detailed USA destroyer for it ,but I wanted a British destroyer and HMS Legion fitted the bill. As a lot a British warships were set to the U.S. for repairs and were there for convoy duties and needed fixed. This would have be a common site in WW 2

I added more trucks which are from L'Arsenal and figures produced by Eduard which are pre painted and just needed touching up their heads.
The street lights come from Starling Models STM48 1/700 Modern diorama accessories and the just finished off the drydock. Like the cherry on the cake.

Having finished, I started putting in competitions at models show and it starting winning ,so I put it in the big one at the Telford Model show in November for ships dioramas group, up against I thought very stiff competition and it won the Gold for the group, I was very please.
---
Gallery updated 3/11/2023


© ModelWarships.com