Sunderland Mk III und Fairmile C at the Pembroke Docks 1942
by Matthias Pohl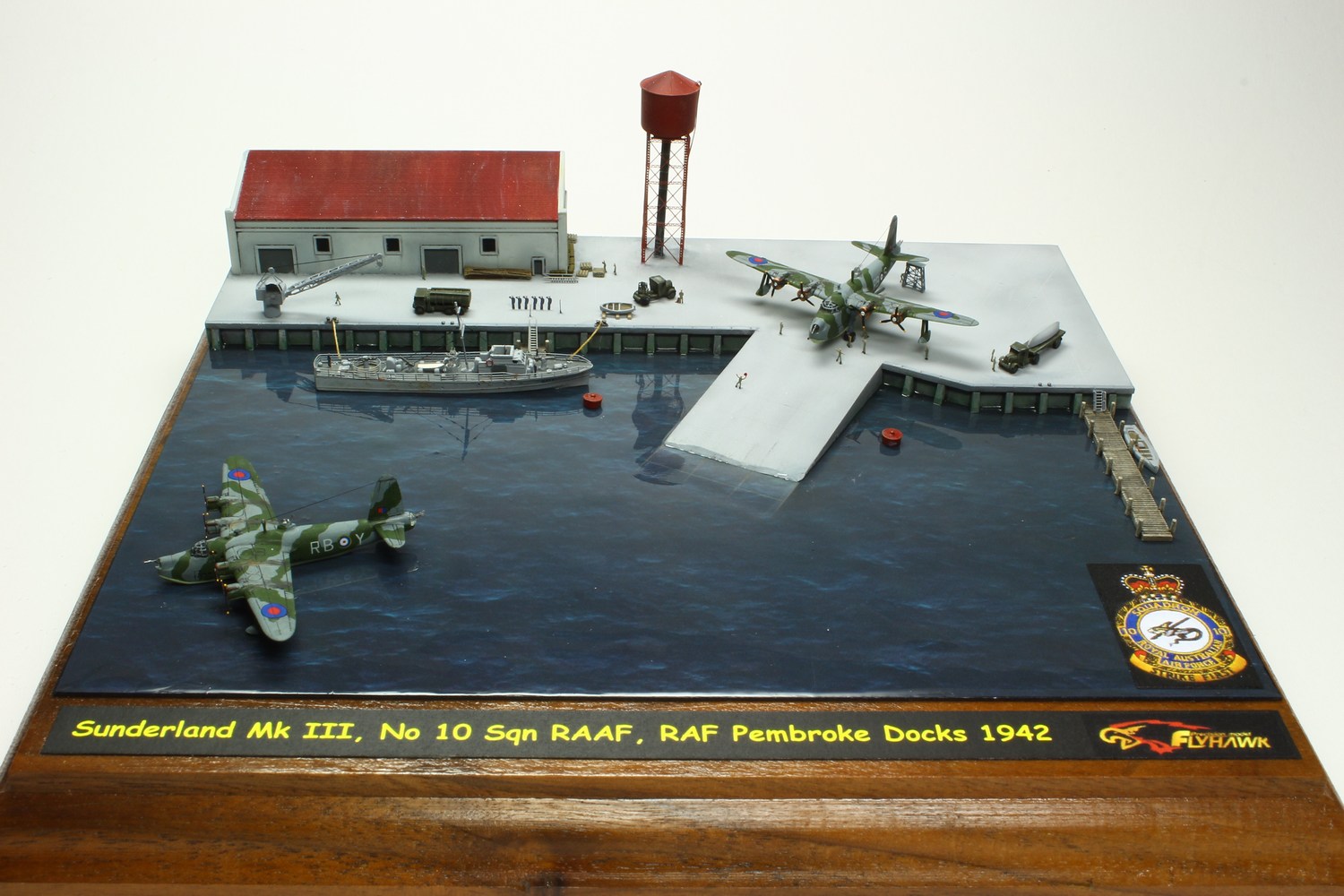 1/700 Sunderland Mk III und Fairmile C (Flyhawk)
Even though the Royal Navy is not my (main) topic, this small kit from Flyhawk (No. 1161) appealed to me immediately after its release, especially since I had made a kit review for the "ModellFan" a german plastic modelling magazine.

The base measures 16 x 17 cm, so everything is quite clearly laid out. The water surface is the back of the cardboard box, which I have painted over several times with 2K clear varnish. The location of the scene in the Pembroke Docks and there the decoration and painting of the Sunderlands as planes of the No. 10 Sqn of the RAAF is probably due to the paint. In grey-green I found it more interesting than in brown-green as provided in the kit, especially since the Australian squadron has a very interesting history, which can be read on Wikipedia.

A little unusual and partly problematic is the production of the two Sunderlands in transparent plastic. Details are not easy to see during handling. Very nice and filigree is the enclosed etching plate, which even contains the pictured figures. I painted two groups: Air Force soldiers in olive and naval personnel in dark blue. Needless to say, the guys are only about two millimeters tall...

Even the on-board machine guns of the Sunderlands are available as photo-etched components! Also commendable is the attached decal sheet, which leaves plenty of possibilities open to design British Sunderland squadrons in their respective liveries. The letter identifiers are available in double alphabet in gray and black, in addition the roundels in different versions!

Also interesting is the selection of a Fairmile C-MTB on the quay, to my knowledge the first and only kit of this boat class in this scale! And it doesn't always have to be a Vosper MTB. Only the loading crane on the quay still comes from my spare box, this sector of the scenery seemed a little too empty for me. I think he's doing very well in his place!

The construction of the small diorama gave me a lot of pleasure and is a real eye-catcher at every exhibition!
---
Gallery updated 2/13/2023


© ModelWarships.com