U-Boat Typ VIIB in dry dock
by Björn Leichsenring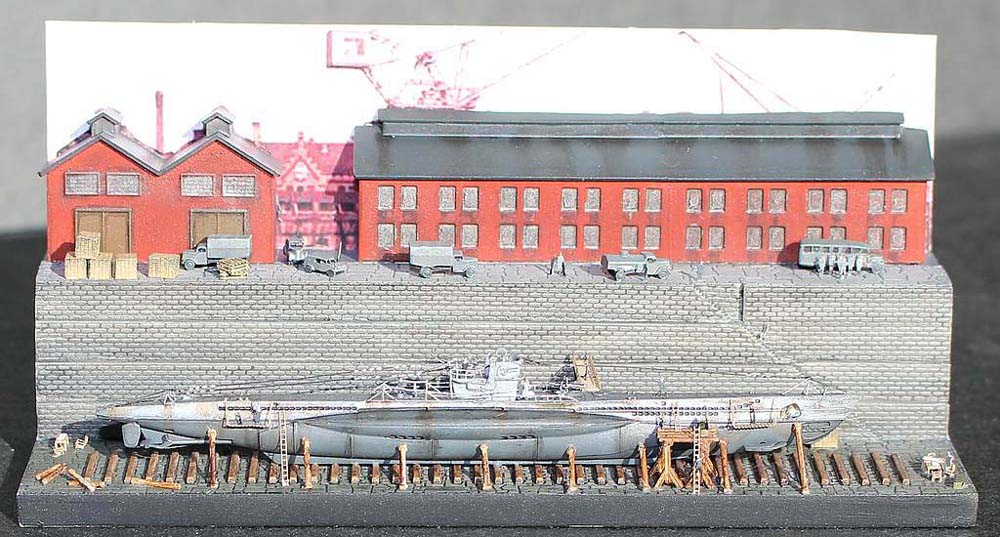 1/700 U-Boat Typ VIIB in dry dock (Flyhawk)
As the 2nd variant of the Type VII series, Type VIIB was created with a of the A variant by 33t increased fuel capacity, which led to a range increased to 6,500 km. In addition, a stern torpedo room with a torpedo tube and additional reserve torpedo was installed. Due to the greater range and the increased speed, it was also suitable for use in the open sea in the Atlantic. A total of 24 U-Bottes of this type were built between 1936 and 1940.

The kit comes from the Flyhawk and included a Type VIIb submarine with a fully-fledged lower hull as well as part of the dry shipyard along with the wooden supports and the woodworking platform. The set was supplemented with etched parts, which included details for the submarine, boxes and pallets, tables and chairs, other work platforms and figures. Obscured by similar dios on a larger scale, I naturally wanted to shape the whole thing with more life. So I got the Aoshima port set and adapted the shipyard buildings. I have also added LÁrsenal's vehicles. I deliberately provided the submarine without a specific number, since the whole Dio has no direct model from any shipyard anyway.

Lackiert wurde alles mit Vallejo. Das U-Boot war dagegen etwas einfacher. Schwer dagegen war es, den richtigen Farbton der Mauern und Böden zu treffen. Hier hatte ich mehrere Versuche gestartet, bis ich zufrieden war.
---
Gallery updated 1/12/2022


© ModelWarships.com