HMS Warspite/HMS Hotspur
by Roger Wilson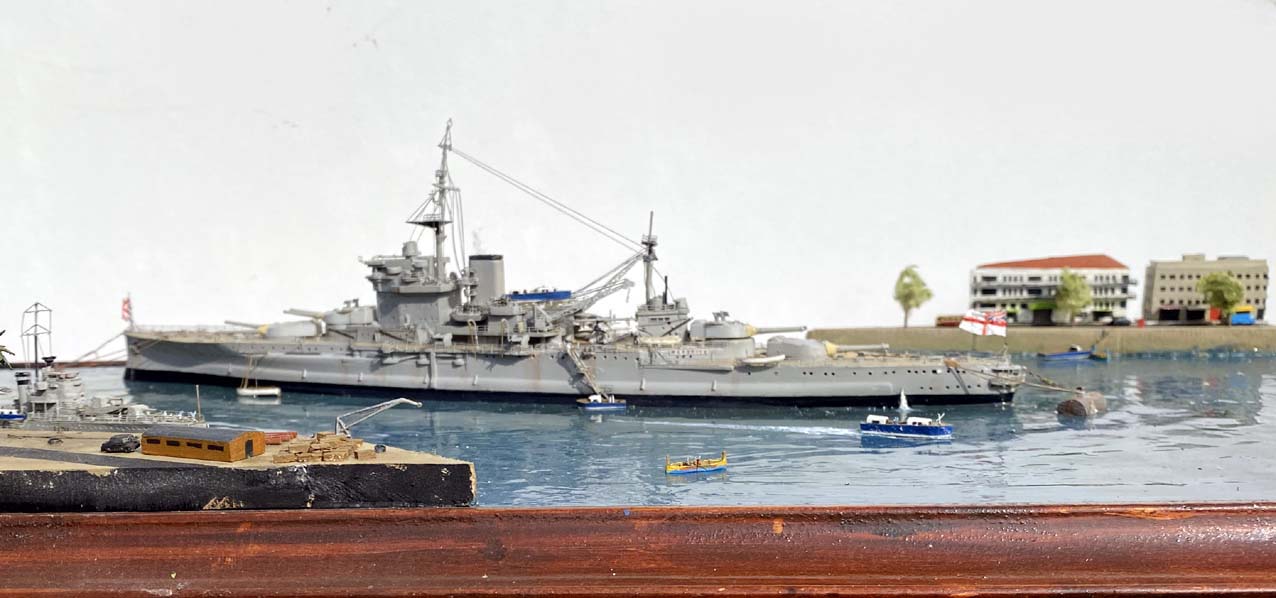 1/600 HMS Warspite HMS Hotspur (Airfix)
This is an Airfix model of an old favourite, HMS Warspite.

The setting is a sunny afternoon in Valetta, Malta around late 1938.

Warspite has just returned from gunnery practice with the Mediterranean fleet and is undergoing routine maintenance, gun cleaning and replenishment. Ship's launches are busy ferrying crew members ashore. The destroyer HMS Hotspur is just arriving and docking opposite.

Of course I have used modellers' artistic licence for the surroundings which include part of the old fortifications of the Grand harbour, and I accept that these details will not be entirely accurate! I have also omitted Spanish civil war recognition stripes over 'B' turret which may have been painted on at the time the model is depicted.

I included a sun awning over the quarter deck which would have been typical on a hot afternoon but for the purposes of detail I have removed it on some photographs for a better view of that area of the model.

Both Airfix models have been enhanced with extra brass parts from Atlantic models. All dock and shore detail is scratch built as is the Supermarine Stranraer floatplane, which I included.

I would be happy to receive any questions or comments.
Roger Wilson
---
Gallery updated 8/16/2023


© ModelWarships.com