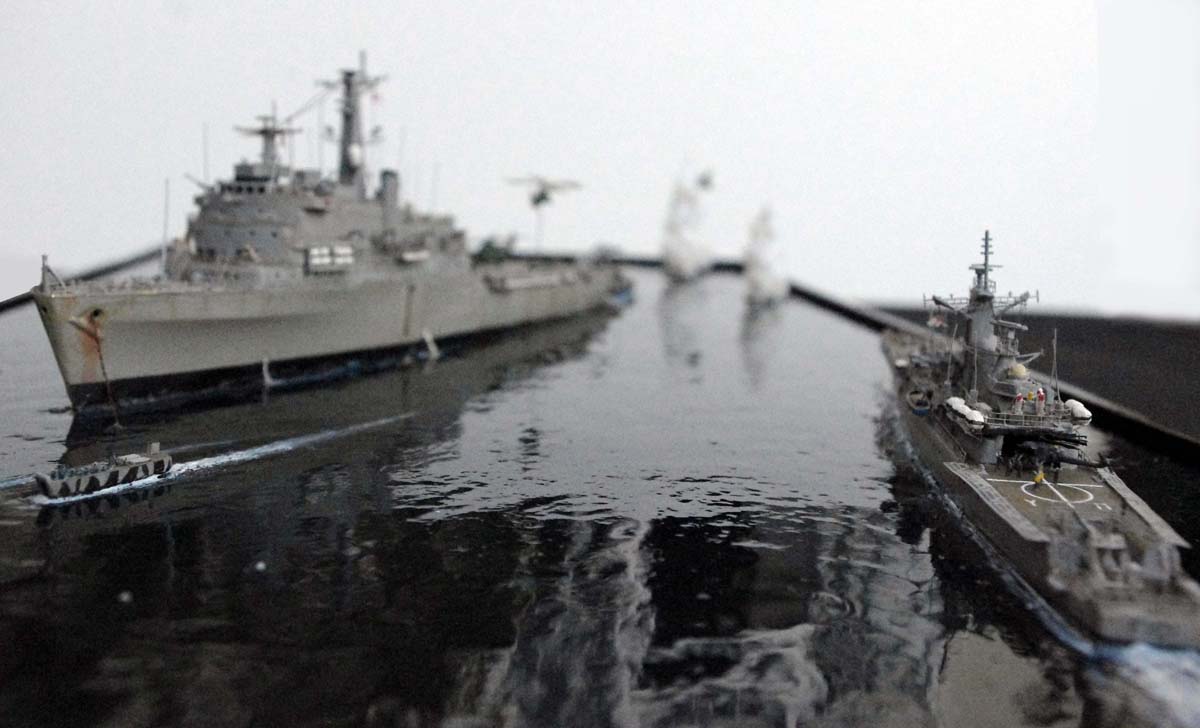 1/600 HMS Fearless & HMS Yarmouth (Airfix)
I made this model during lockdown starting September 2020 and finishing April 2021. I've always wanted to do the Fearless because a landing ship incorporates so many added elements such as aircraft, vehicles etc. The subject is the Falklands war and the landings in San Carlos Water in May 1982. The model shows HMS Fearless unloading vehicles, equipment and infantry by landing craft and helicopter, while under constant air attack from Argentine air force 'Dagger' fighter bombers. HMS Yarmouth, a Rothesay class frigate, is assisting Fearless in warding off these attacks. The 'Airfix' models I used are quite old and I had difficulty with the original hull mouldings, and the parts were quite poor compared to the model kits of today. HMS Fearless had a raised FLYCO deck which I had to fit onto the original kit. The frigate I used was the 'Airfix' HMS Leander which I converted to look like the Yarmouth. The Fearless model only comes with the landing craft and two Wessex helicopters, so everything else on her landing deck was scratch built, and this took me some considerable time. I used 'White Ensign' brass parts to enhance the detail on both ships, and aerials and rigging were, of course, made up from stretched sprue. I used 'Aqua Magic' for the water effects which was perfect for the relatively calm waters in which the landings took place. The baseboard was simply a piece of chipboard and I had to 'dig out' a position for the Fearless to sit because the stern sinks down in the water when the LCT dock is flooded. The Fearless flight deck and the LCTs show various vehicles including a BARV, Bedford MK trucks, Land Rovers with trailers and 105mm field guns.

Any correspondence on this subject can be sent to me at my new E-mail address which I would welcome.
Roger Wilson
---
Gallery updated 8/27/2021


© ModelWarships.com