We're All In The Black Gang Today
by David Griffith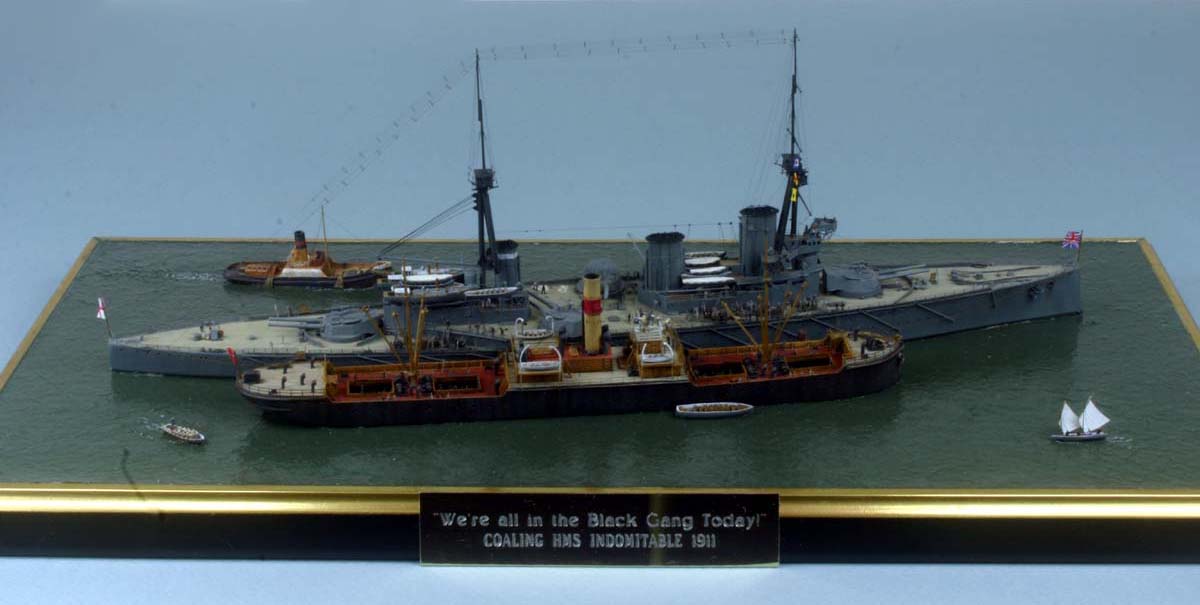 1/700 HMS Indomitable (Combrig)
This is my diorama of the battlecruiser HMS Indomitable in the process of coaling. The kit is the 1/700 resin one by Combrig. For the collier, I used the Battlefleet Models resin kit of the SS Drumgeith. The little lighters and the tug were from Fine Waterline.
The lids for the chutes to Indomitable's coal bunkers were drilled open. The hatches on the colliers were opened and the holds ground out with my Dremel. The masts and derricks were replaced with metal, and rigged with a combination of photo-etch and Caenis.
Coaling a capital ship was an intensely labour-intensive process, and involved almost the whole of the ship's crew, and the job often continued long into the night. Morale was kept up but the ship's amateur band playing rousing tunes. The crew got so filthy, that they could claim membership of "The Black Gang", the name given to that portion of the crew that usually dealt with dirty engines and fuel, etc.
The model used large numbers of photo-etched figures from Lion Roar and Flyhawk, and they fill the lighters, the collier's holds as well as the ship's deck.
If you look close to the second funnel, you will be able to see the ships band having their phot taken by a guy with a camera on a tripod. I saw the camera on the photo-etch fret, and I just HAD to use it!
Rigging is done using "Caenis" line and nylon cord teased out to individual fibres. Tiny wire rings were fashioned for the cage aerials.
The signal flags are B-R-H, and stand for Ben Russell Hamilton, the name of the new baby of one of my work colleagues.
The model won a silver medal at the recent Scale Model World show at Telford. It beat Bruno Gire's Mare Island diorama, but the one that beat me to the gold medal, was a worthy winner, as I am sure that Jim's report will show.
---

© ModelWarships.com