HMS Prince of Wales
by Rainer Michalek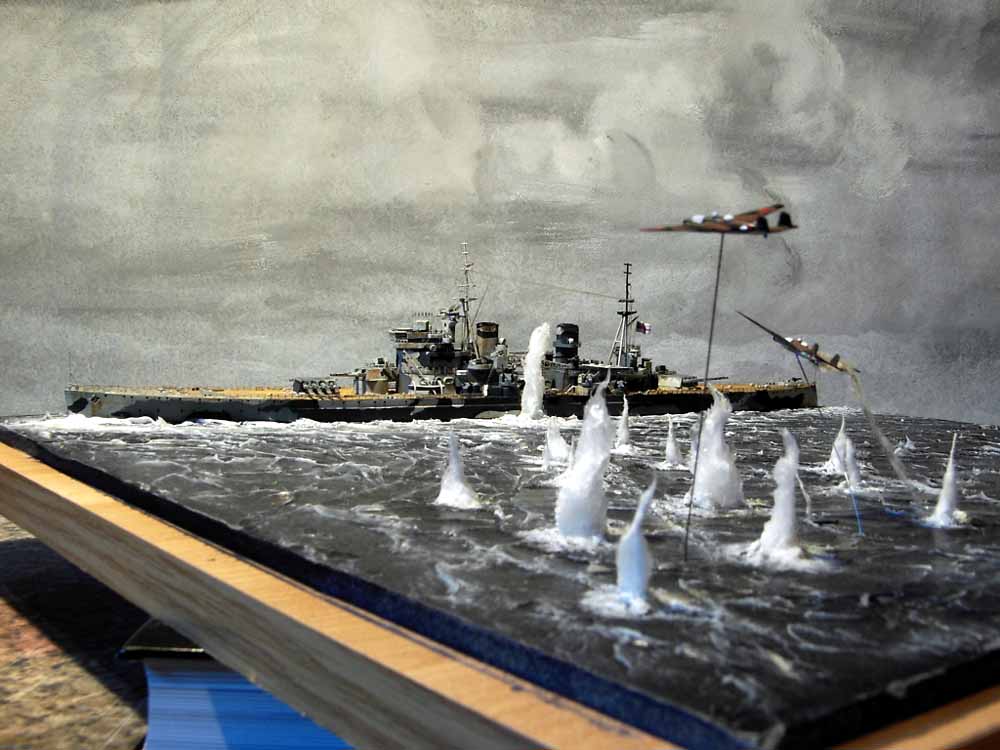 1/700 HMS Prince of Wales (Tamiya)

.

The model of the Prince of Wales was again available in 2004, so that one again has the opportunity to attempt a model portraying the Battle of Malaya . The kit consists of fine injection sprues that require a minimum of cleanup. With the kit were 6 Torpedo bombers, 3 x type 96 "Nell" and 3x horizontal bomber type 1 "Betty" along with Decals for the airplanes in high quality .

The assembly instructions were clear and divided into 10 assembly sections. The camouflage pattern shows the Prince of Wales as in December 1941. This scheme is quite complex and required much patience in order to apply!

The camouflage pattern in the instructions call for mixing Tamiya colours, I circumvented this tedium by using the correct WEM colourcoats.

No Photoetch is supplied with the kit, so I used the GMM (Gold Medal Models) 1/700 King George V.

The Prince of Wales is a fine kit which would build well out of the box; however replacing many of the finer assemblies with Photoetched parts lifts the kit final appearance immensely. All PE was attached with CA glue.

Much of the build time was taken up by the Camouflage scheme.I thinned the Colourcoats with lighterfuel. And applied all with a paintbrush. In smaller scales I feel airbrushing can give too flat a tone. Afterwards a wash of oil thinned with lightefue was applied to give depth the detail. Rust and watertrails from portholes were applied with coloured pencil. I placed some Eduard figures on the decks to give a sense of scale and life.

The Diorama base was created from a old shelf upon which was stuck a sheet of polystyrene. This was painted with water-soluble oilpaints in a variety of dark sea colours. Once completely dry, I fixed the ship to her base with silicone, thereafter I created the remainder of the sea base using silicone sculpted with a dental tool.

In conclusion t he kit of the Prince of Wales was an enjoyable project . For an outlay of 21 Euro I had much building fun, albeit the Photoetch set did double this price!

I used the German language version of;
British battleships Alan Raven/John Robert of WW2 , Berne & Graefe 2002.

Along with images on the internet.
---

© ModelWarships.com