Liberty Axios ex James Ives
by Pavel Lupandin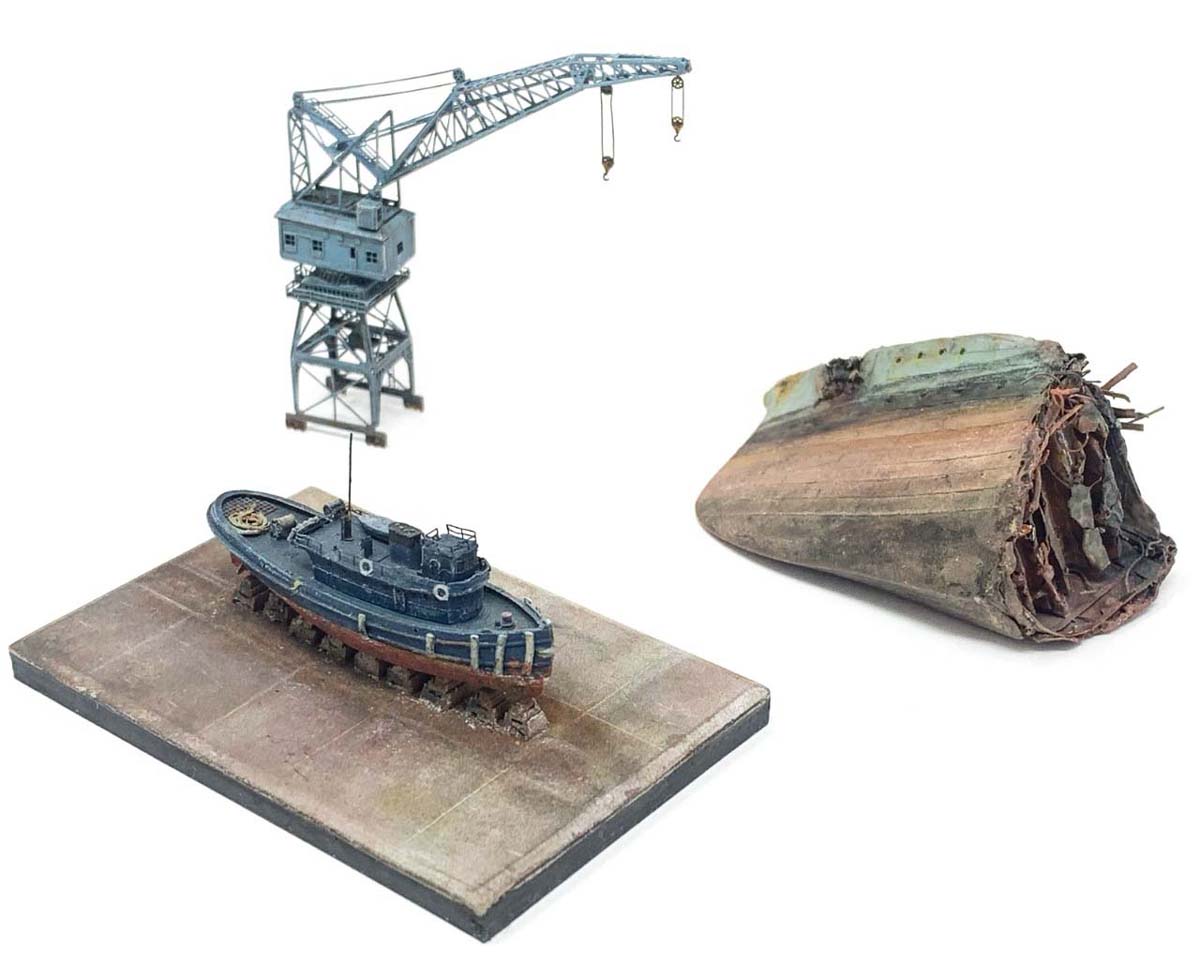 1/700 IJN Haruna 1946 (Scratchbuilt)
I call these projects "palette-cleansers" between more complicated builds.They take a day or two and just for fun. I have built a salvaged turret like this a while ago, and here is another one of the series: the salvaged battleship bow. Idea is to show something on a very small scale, and with a small footprint as a model but still to convey a sense of scale of a battleship. As a side goal, I practiced some weathering techniques, hull detailing (plates) with tape and pencils and dry pigrments, and scratch building overall with resin. Some day I'd like to build a salvaged wreck of battleship Mutsu - thus a project like this is also a good practice for the real deal. This is of course fictional - Haruna, was broken up in situ in Kure and the bow was never severed, but it did sink at a list shown, it did have these tidal marks, it did have port side damage, and it was by all accounts painted in greenish color.

The bow was made from resin putty (Tamiya), cast in a mold of Hasegawa's Kirishima 1/700 kit that lacked detail and was just sitting "collecting dust". No plastic kit was hurt in making of this project! The process turned out fairly simple, and while there is some distortion - it is hidden by the fact that this is, a wreck and distortion is par for the course I guess!

Inspiration was Marijn Van Gils' beautiful Amagi diorama in Kure, the muted green and red colors of the hull and the thick tidal marks spanning the hulk. I tried to replicate both of these on Haruna's bow, as well as the hull break that is detailed using foil, wires, and some PE doors. I also simulated the bomb damage to the port side. On photos I thought it would be worth displaying it to my other palette-cleanser projects: a 25t luffing crane and harbour tug from Alliance ModelWorks - machinery not strangers to the port scene where a salvage might take place. The sense of scale hopefully is conveyed well. Perhaps one day it would all make way into a proper diorama!
---
Gallery updated 10/17/2020


© ModelWarships.com