Destiny with Defeat
by Kym Knight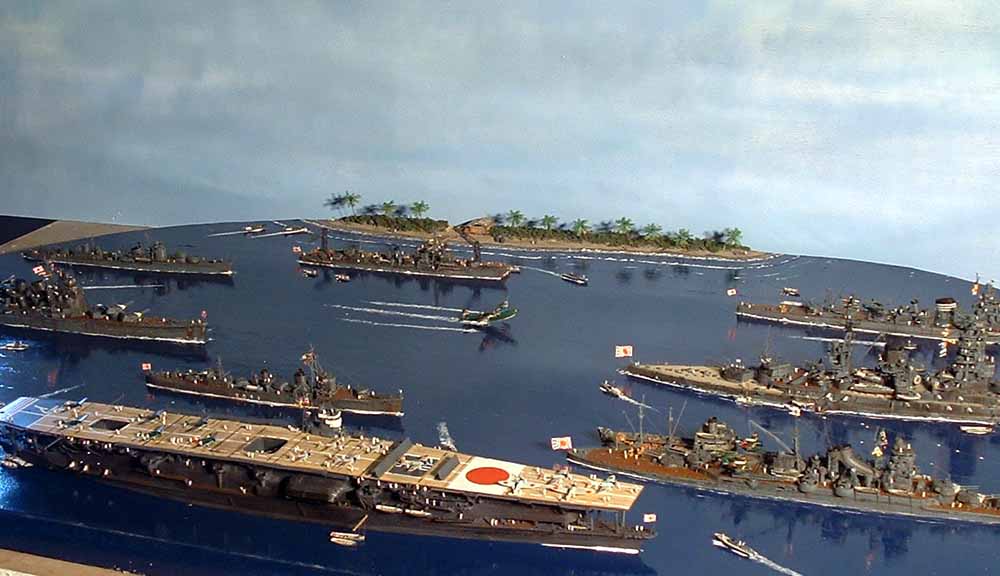 1/350 Truk Lagoon in 1942 (Various)
Truk Lagoon, just prior to the Battle of Midway
With the large amount of 1/350 scale IJN subjects being offered lately, I wanted to display the resin kits I had already built and these newly released plastic kits in a scene that would show off their awesome lines. I decided the only way I could display them this close to each other was at anchor(though in reality, maybe not this close). Truk Lagoon was one of the IJN's largest non-mainland bases in the Pacific and at one time or another, anchorage to 99% of Japan's fleet, made it a perfect choice. The design of the base came from the idea that 'lagoons are basically round or oval (curved sides) in shape and wanting to do something a little different, settled on what you see. After spotting L'Arsenal's great looking 1:350 palm trees a while ago, just had to make some island for them to grow on, though space was pretty limited. I settled on this time period as most of these ships were at or just visited Truk prior to their ill-fated invasion of Midway Island.
Ships in the lagoon:
IJN Akagi (Hasegawa)
IJN Nagato (Hasegawa)
IJN Takao (Aoshima)
IJN Mogami (Yankee Modelworks)
IJN Furutaka (Yankee Modelworks)
IJN Akizuki (Yankee Modelworks)
IJN Kagero (Yankee Modelworks)
IJN Yukikaze (Hasegawa)
IJN Uluru (Pit Road)
...and a cast of thousands.
All paint, except black, white and sea base are Colourcoats.
I want to thank the ModelWarships members who gave me encouragement and kept me going during this build.
---

© ModelWarships.com