BRP Mariano Alvarez
by Heiko Schittek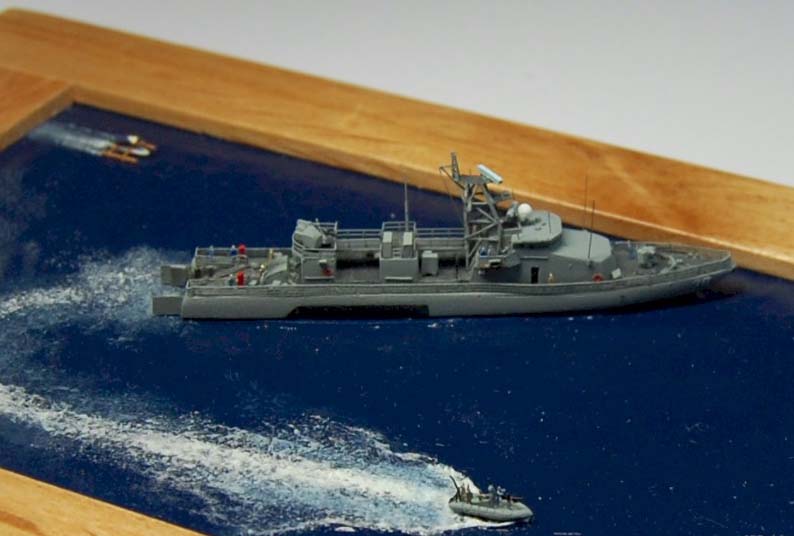 1/700 BRP Mariano Alvarez (Scratchbuild)
This is the BRP Mariano Alvarez, an ex-USN Cyclone Class patrol ship and the only ship of this class now serving in the Philippine Navy. The ship is depicted in its 2010 configuration with all its upgrades including the modified stern which includes a ramp for the RHIB. Since this sort of ramp is unique to this kind of ship class, the gates are left in an open position. This is part of the idea for a diorama, since this ship alone is too small for a diorama, I decided to have the Alvarez sit in calm waters after having put the RHIB to sea. The ship itself is completely built from scratch. The hull was constructed with plastic sheet using the proven and tested 'sandwich' method and then sanded into the right shape. The superstructures were also built from styrene sheets as well as various PE materials. The forward superstructure was challenging since the Cyclone class ships have a uniquely shaped and angled superstructure. Also the bridge wings were built from PE. The mast was again constructed and detailed with various copper wires. The windows are decal stripes cut into the right shape. The 20mm guns (modified) are from GMM, the MK 96 and MK 19 are scratchbuilt or taken from another set and heavily modified.
The ship is now part of a diorama that I like to call either "Pagharang - Interception" or "Mabuhay! - Welcome to the Philippines!". It is a fictional scenario in which a South Korean vessel has entered Philippine waters and is stopped by the Mariano Alvarez. The Philippine Air Force UH-1 will render support while the Alvarez is sending a boarding party to the vessel on the RHIB. The UH-1 was additionally detailed to show the interior with a few soldiers sitting by the open door holding the foreign vessel at gunpoint. A little tidbit on the side may be the nosey (and patriotic) little fisherman in his little bangka, who's trying to get a glimpse of all the action.
The South Korean ship (part 2 of the diorama) is the ROKS PKM 287 and can also be found on this site.
---

© ModelWarships.com