USS Ward and IJN Mini Sub
by David Waples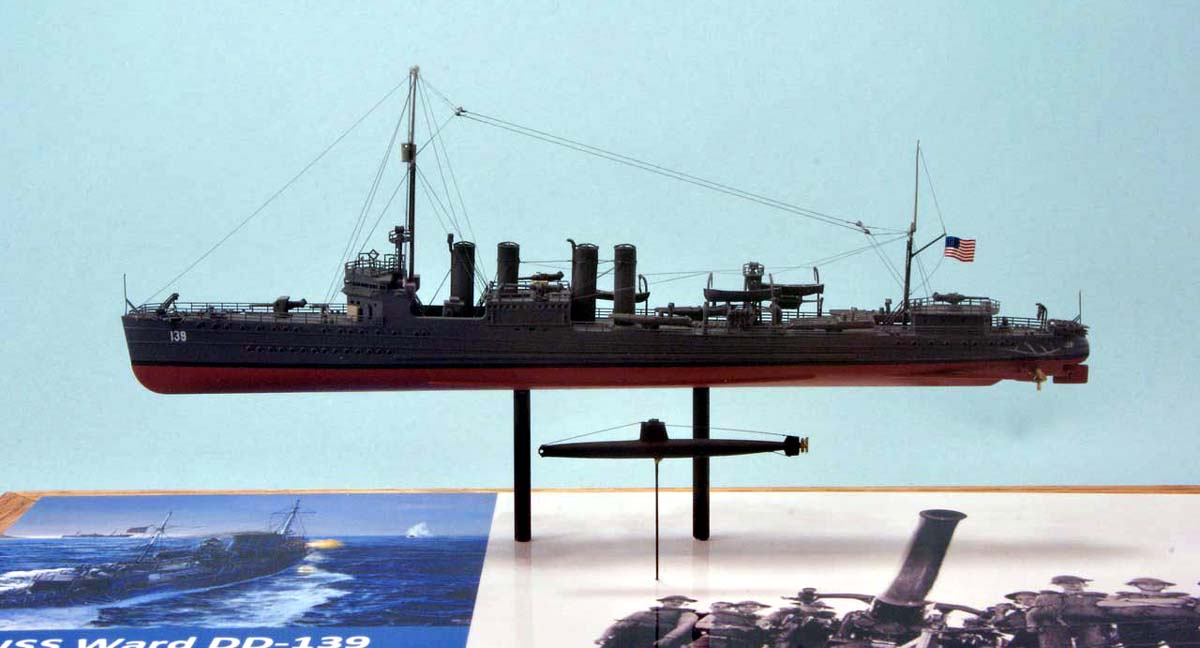 1/700 USS Ward & IJN Mini Sub (FlyHawk)
This is the Flyhawk models 1/700 deluxe USS Ward. Deluxe because it includes photo etch and resin parts. Here are some of the features of this build:

The photo etch is very complete and includes turned barrels, depth charges, and even bits! Resin parts include gun shield on bow and torpedo tubes.

I added 1/700 .50 cal water cooled machine guns from 3D ModelParts. I also added exterior helm on the stern cabin.
I used three types of rigging. First was .06 tungsten wire as standing rigging for the masts and stays for the stacks. I also used the tungsten wire for large antenna between the masts. I used Uschi .001 lycra rigging line to secure the antenna to the masts and also between the life boat davits.

The base is made of oak and includes an acrylic cover. There is a piece of black acrylic as an insert for mounting the models. The stands are brass. The art work was done on Power Point and printed on photo paper. It was secured to the base with spay adhesive.

The model was color matched to the prototype and painted with White Ensign Models enamels.

The IJN submarine was from a Tamiya kit. It is also rigged with tungsten wire and a random piece of photo etch was used as the guard for the torpedo tubes on the bow.

Talk about an exercise in patience! Flyhawk makes wonderful kits and I highly recommend them. MUST BUILD SOMETHING BIGGER! If you have any questions let me know.
---
Gallery updated 11/20/2017


© ModelWarships.com