Lübeck F224
by Paul Helfrich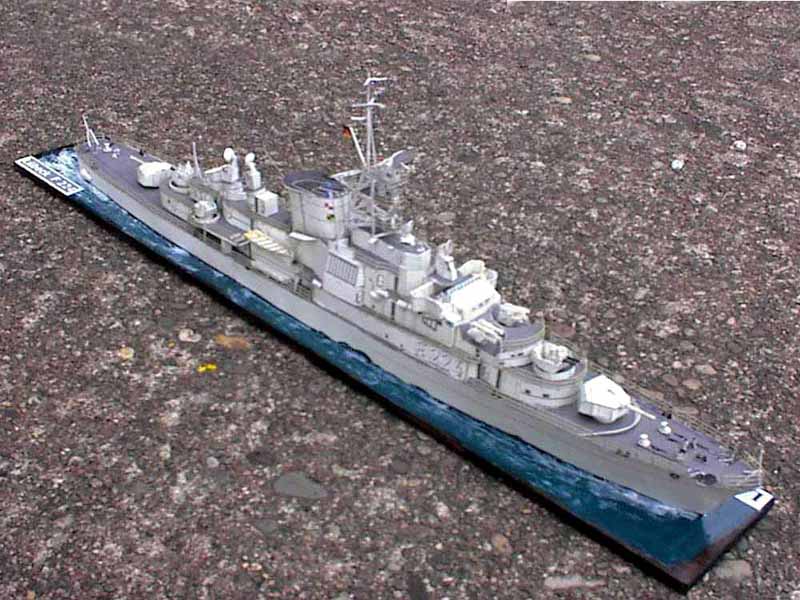 1/250 Lübeck F224 (Wilhelmshaven)
This was my final completed build of 2006 - finished on New Year's Eve! It's the Wilhelmshaven 1/250 kit of the German Köln class frigate. I built it as F 224, Lübeck.
The six ships in this class were the first major warships built for the Bundesmarine. All commissioned in the early 1960s and served into the late 1980s. All have now been replaced by newer construction.
This was a fairly challenging build for me, as there were diagrams provided for the guns and some of the other smaller fittings, but only one blurry starboard side view for the overall ship. As a result, there was a certain amount of guesswork involved in my construction, particularly of the bridge and lattice mast. Unlike most of the paper models I've built, which include enough diagrams to render the language barrier moot, this kit relied heavily on written instructions. Since these were in German, they weren't that much help to me - I read just enough German to get myself in trouble! So I downloaded as many reference photos of ships in this class as I could and took my best stab at it.
In any case, I hope everyone enjoys the photos of this unusual ship. The paper railings are from Scale Paper International.
---

© ModelWarships.com