USS Bronstein FF-1037
by Phil Toy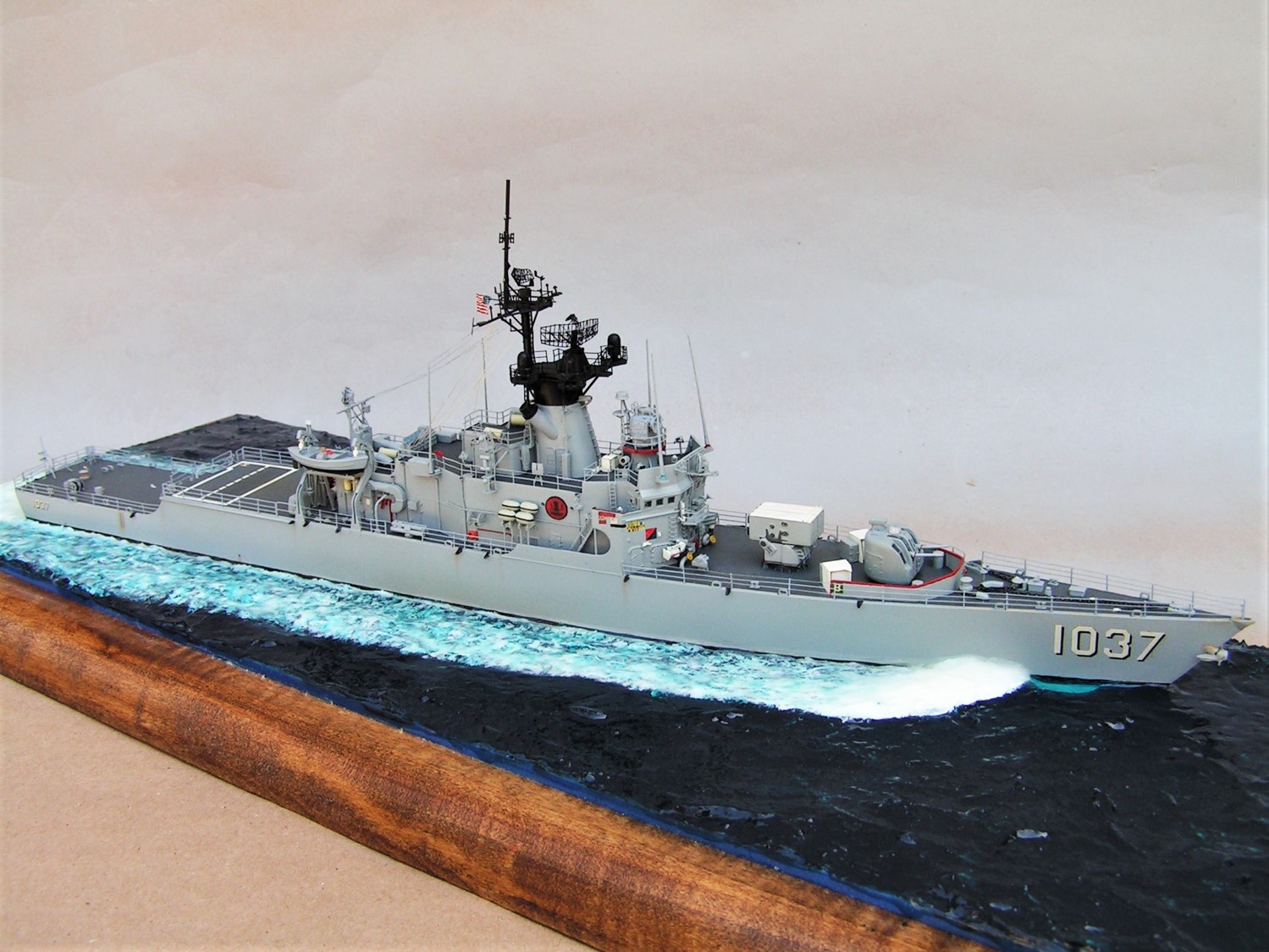 1/311 USS Bronstein FF-1037 (ScratchBuilt)
USS Bronstein DE-1037 and her sister USS McCloy DE-1038 were prototypes for the third generation of USN destroyer escorts. They introduced the "MACK" which combined a mast with a stack and the very large SQS26 bow mounted sonar combined with ASROC and DASH. Approximately the size of a WWII destroyer but with only 24,000 HP using two 600 lb. boilers and a single screw, they proved too slow and small for the USN preferences and had the lowest maximum speed for the Fast Frigate category to which they were reclassified 6-30-75. The class had notoriously poor sea keeping caused by the bow sonar dome plowing through instead of riding above cresting waves and exhibited a tendency to roll because of top weight even though originally equipped with active fin stabilizers. After DASH was deleted, the fins were removed to eliminate their jerky righting moment. Despite this they were still deployed to areas with heavy seas and had a long service life comparable to later frigates. In early 1973 the SQR-15 was installed on Bronstein, to experiment with tactics and operations for surface ship passive towed array sonars, and not removed until 1984.

USS Bronstein was launched 3-31-1962 by the Avondale Shipyard in Westwego, LA and commissioned 6-16-63, decommissioned 12-13-1990, stricken from the registry 10-4-1991, and sold to Mexico 11-12-1993 where she served as ARM Hermenegildo Galeana F202. Transferring to the Pacific soon after fitting out, she made several Vietnam deployments, even shooting multiple NGFS missions in December 1972 despite only mounting 3"50 guns. The bulk of her deployments were ASW oriented, initially with HUK task forces. From 1987 onwards she was tasked with new equipment testing and evaluation, drug enforcement, general patrolling, and exercise "opfor" deployments.

This scratch-built 1/311 model was completed in 2005. Pier side photos by Alan Warner, the 1/700 JAG model of USS McCloy, A.D. Baker's drawing in Friedman's Illustrated Design History of U. S. Destroyers, and internet photos provided references. A physical differentiation between FF-1037 and FF-1038 is the location of the signalman's shelter (forward of the MACK on FF-1038 and aft of the ECM equipment deckhouse on FF-1037). The ship is depicted sometime after November 1986 based on the Desron 33 insignia, lack of Red Engineering E on the mack exhaust, and the presence of a second pair of .50 cal mounts on the fantail. Sheet styrene and Evergreen styrene tube and rod were used with stretch sprue detailing. The motor whaleboat, all radars, and weapons were scratch built. The campaign ribbons and Desron 33 emblem were scanned from Warner's pictures, reduced, and printed on glossy photo paper which was cut and glued to the superstructure. Model railroad 40 link/inch chain provided the ground tackle. Model railroad decals provided the efficiency awards. Clear sheet styrene was cut for the pilot house and signalman's shelter windows. The model was mounted on blue plexiglass, textured with acrylic gel medium, painted with artist acrylic paint, and finished with gloss varnish.

---
Gallery updated 8/17/2023


© ModelWarships.com