USS Knox Frigate
by Chris Hewitt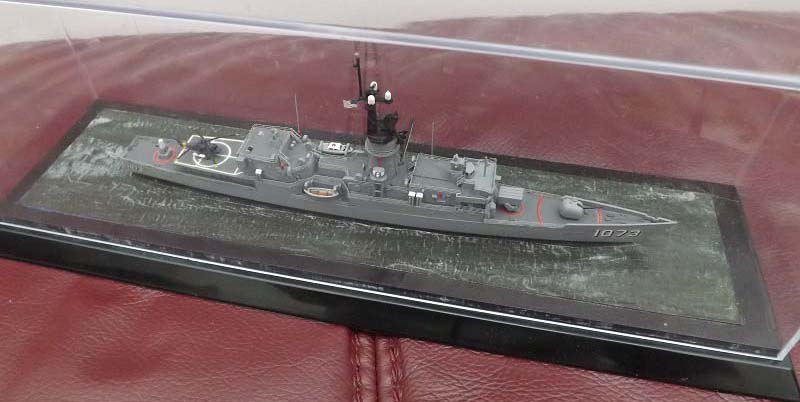 1/700 USS Knox Frigate (AFV Club)
A bit of history, The 46 ships of the Knox class were the largest, last and most numerous of the US Navy's second-generation ASW escorts. The lead ship of the class was the USS Knox (FF-1052), laid down 5 October 1965 and commissioned 12 April 1969, at Todd Shipyards in Seattle. Planned as the follow-on to the twin 5-inch gun armed Garcia class frigates and the Tartar missile-equipped Brooke class frigates, their initial design incorporated the prior classes' pressure-fired boilers (the design later was changed to conventional 1,200 psi (8,300 kPa) boilers) in a similar-sized hull designed around the massive bow-mounted AN/SQS-26 sonar.
Ten ships were authorized in FY 1964, sixteen in 1965 and ten each for FYs 1966, '67 and '68; six were canceled in 1968 and four more in 1969. They were built in four different shipyards and were originally commissioned as destroyer escorts (DEs) 1052–1097 in 1969–1974, they were redesignated as frigates (FF) on 30 June 1975.
In February 1972, after encountering a severe Nor'Easter off Cape Hatteras, the U.S.S. Trippe (1075) suffered major damage to its ASROC missile launcher, which was ripped off its mounts. The Bureau of Ships ordered all of the Knox class to have a retrofit "hurricane bow" which heighted the bow section to prevent burrowing into on-coming seas and to protect the forecastle armament.
The Knox class was the Navy's last destroyer-type design with a steam powerplant. Due to their unequal comparison to destroyers then in service (large size with low speed and a single screw and 5 inch gun), they became known to a generation of destroyermen as "McNamara's Folly." These ships were retired from the US Navy at the end of the Cold War due to a declining need for an advanced ASW capability. By 1994 all ships of this class had been retired from the US Navy, although some remain in service with foreign nations such as Egypt, Taiwan, Thailand, Turkey and Mexico.
This is the only 1/700 Ship that AFV Club do, very nice kit,with Orange Hobby bring out theirs soon in 1/350,which looks superb, here is my in 1/700



---
Gallery updated 2013


© ModelWarships.com