USS Brooke FFG-1
by Carl Musselman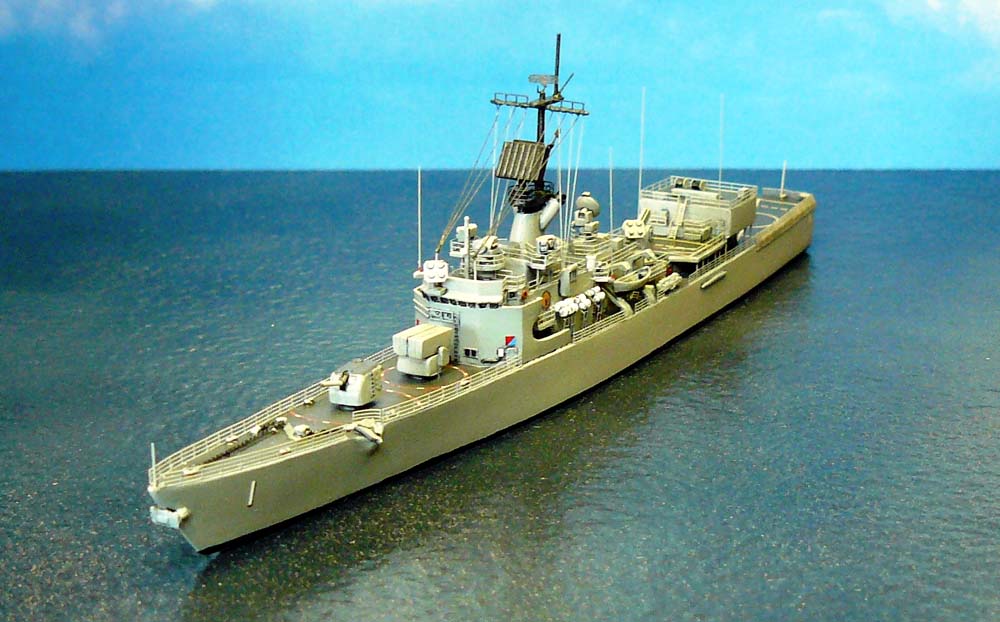 1/700 USS Brooke FFG-1 (Corsair Armada)
After comparing the CAP 1/700 USS Garcia DE-1040 resin model kit to the real USS Brooke class of FFGs, I decided to convert the Garcia kit into the USS Brooke FFG-1, herself. I also plan to use this same kit to create a model of the USS Glover FF-1098, too.
The Garcia kit is great in that it includes optional bridge and helo hangar parts in order to build various configurations of the Garcia class ships. I had to modify the top of the more appropriate optional bridge piece and had to slice off the forward part of the larger helo hangar piece to represent the Brooke.
I also had to extend the O1 deck level superstructure aft of the MACK as well as build up the O1 deck just forward of the hangar and extend this deck outboard. I filled the Garcia class stern towed sonar area with putty and sanded it smooth.
I used a missile launcher, fire control radar array, SLQ-32, Chaff Launchers, and SATCOM arrays from DML/SKYWAVE extra equipment sprues.
The life raft canisters and supports are a special order item from JAG's USS Belknap kit. The decals, including the UNREP markings, are from various JAG decal sheets. I made the DESRON 13 emblem and ship's name decals, myself, on my inkjet printer.
The PE railings are from GMM and L'Arsenal. The helo safety netting and SPS-10 radar are from GMM.
This model will eventually receive it's own water base but, for now, it will reside in my harbor diorama project for a while.
---

© ModelWarships.com