USS Schofield FFG3 circa Feb 1988
by Phil Toy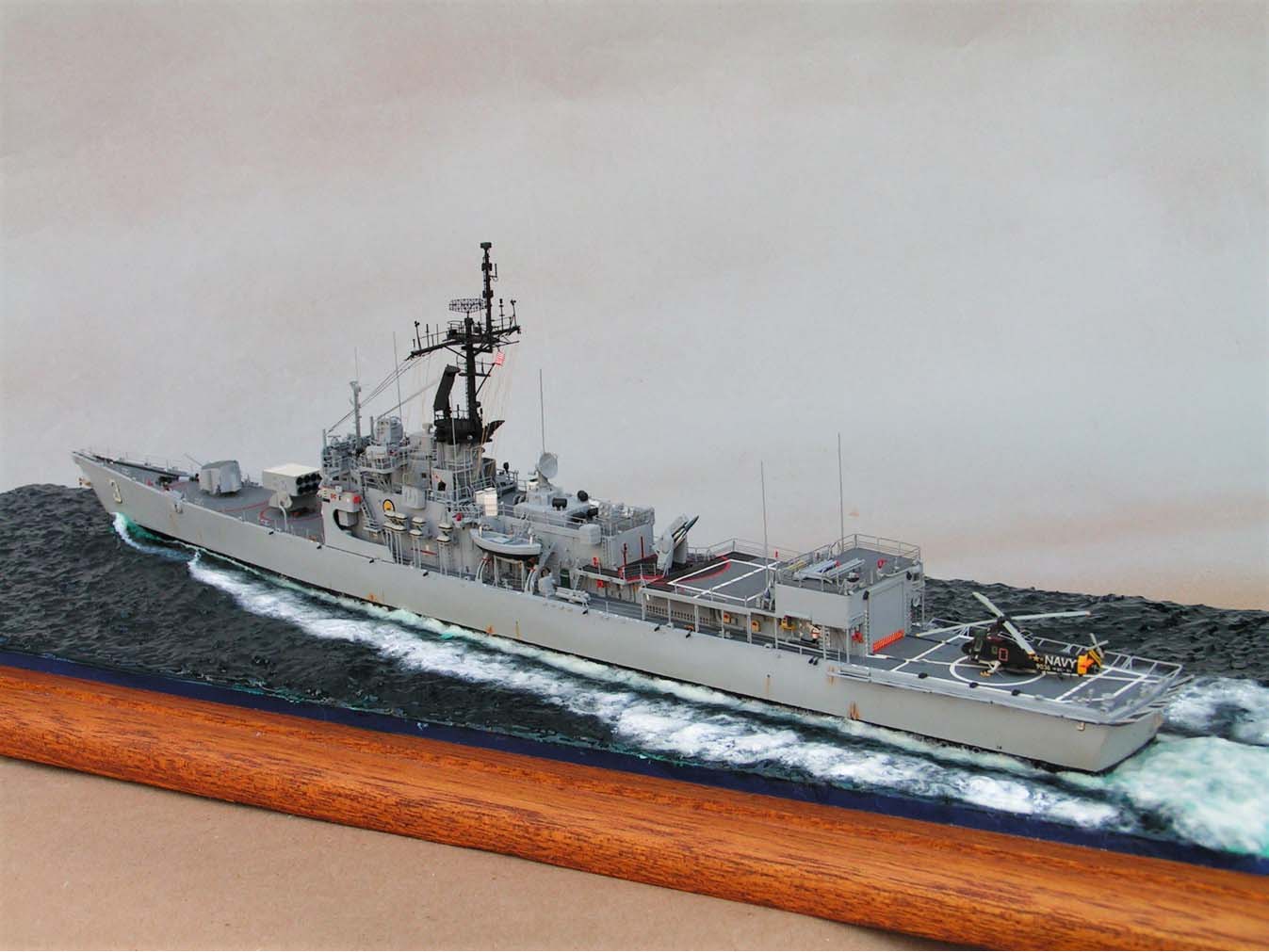 1/311 USS Schofield FFG3 (Monogram)
USS Schofield DEG3/FFG3 was the third of six Brooke class variants of the Garcia class ocean escorts. They were designed around the large low frequency SQS 26 sonar in a huge bow sonar dome, ASROC with large magazine (manual reloads in early ships and power reloading in longer superstructure of later ships), DASH (Drone Anti-Submarine Helicopter) hanger, and flight deck. They retained steam propulsion featuring a combined stack and mast or "Mack". The Brookes substituted a 16 round Mk22 Tarter launcher for the Garcia's aft 5" gun and added associated electronics. The additional $11 million cost over the Garcia Class cost capped the number of ships in the class.

USS Schofield was built by Seattle's Lockheed Shipbuilding & Construction. She was launched on 12-07-63 and because of a shipyard worker's strike commissioned 53 months later, on 5-11-68. On 6-30-75 she was reclassified from DEG to FFG. Homeported on the West Coast throughout her life, she made multiple deployments to WestPac (wartime and peacetime) and the Indian Ocean (initially with specialized ASW HUK groups and later in normal carrier task groups). She was decommissioned on 9-8-88 and sunk as target 11-2-99.

This model depicts FFG 3 as she appeared on February 12, 1988, in San Diego Bay moored to Broadway Pier during an open house. She was assigned to Desron 13 and had replaced the DASH system with the LAMPS 1 system and updated her EW suite.

This 1:311 model was built in 1988 by modifying the 1970 era Monogram kit of USS Brooke. This kit was one of a trio of modern USN ships Monogram released simultaneously (DLG23 Halsey and CVA67 JFK) and was reissued several times as USS Brooke and USS Ramsey. It represents the class as originally built with the DASH hanger. I sawed off the bottom, removed the superstructure's foundation and deck fittings, and rebuilt the superstructure with sheet styrene. The kit's gun mount was used after modification but all other radars and weapons were replaced by scratch built versions. The kit's mack was modified by replacing the forward portion with a new scratch built deck house and replacing the exhausts with evergreen tube. The mack's upper mast was discarded but lower mast was stripped and retained. The anchor chain was purchased from a model train shop. Stretched sprue was used for radar antenna, railings, lifelines, and other details. Monogram's kit provided the SPG 51 platform, boats, and Sea Sprite Helicopter fuselage. There was no helicopter on board during the open house, but HSL 31 squadron's markings from an airshow were applied (west coast's Sea Sprite RAG/FRS). Gold Medal Model's 1:350 decal sheet provided watertight door damage control markings, traffic control arrows and other markings. Model railroad decals provided the bridge wing efficiency awards. Campaign ribbons were strips cut from a white decal sheet after hand painting color stripes. The Desron 13 shield was hand painted on styrene disks. A woman's nylon stocking provided the helicopter safety netting. See this website's 2012 Feature of the buildup of her half-sister USS Bradley FF1041 for pictures and writeup because the same procedures were used earlier on this model. The waterline model is mounted in a recently refurbished seascape of plexiglass, acrylic gel, acrylic paint, and pulled cotton under a gloss varnish.

---
Gallery updated 1/15/2023


© ModelWarships.com