USS Thach FFG-43 circa Feb 1986
by Phil Toy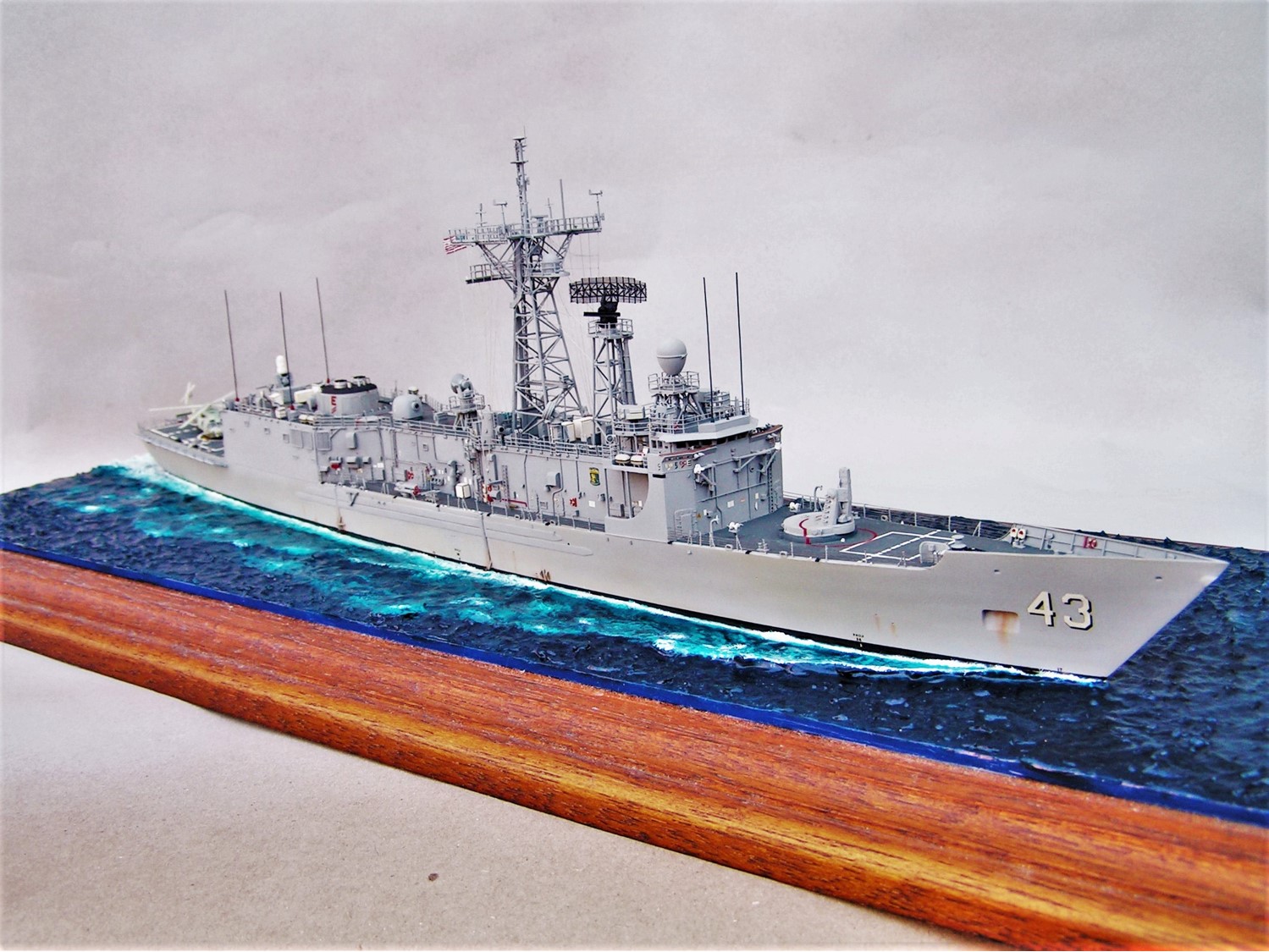 1/311 USS Thach FFG-43 (ScratchBuilt)
Because of widespread criticism of USN Ocean Escorts (DE) being built, the Perry Class was first ordered as a patrol frigate (PF109) and reclassified as guided missile frigate on 6-30-75. The Perrys were the "Low End" of the High-Low Fleet Mix planned by CNO Zumwalt. They used off-the-shelf equipment to reduce cost including an Italian designed gun, Dutch fire control system, and the proven LM2500 gas turbine and Mk13 missile launcher. Shipyards built 21 short hull ships deploying the SH2F Seasprite LAMPS 1 Helicopter and 30 long hull ships deploying the SH60B Sea Hawk LAMPS 3 Helicopter for USN service. Additional ships were built for/by the Australian, Spanish, and Taiwanese Navies, with many more navies adding the ex-USN FFGs when they were retired and made available to other countries.

USS Thach was the thirteenth of the long hull ships: launched 12-18-1982 by the Todd Pacific Shipyard, San Pedro, CA. Commissioned 3-17-1984, deploying from both West Coast and Japanese homeports during her 29 year life, she decommissioned on 11-1-2013, and was sunk as target 7-14-2016 off Kauai Hawaii during a RIMPAC exercise.

This 1/311 scratch built model depicts the ship as configured during an open house when moored to Broadway Pier in San Diego Harbor on 2-8-1986. The ship at that time was assigned to DESRON 21. No aircraft was present. As told to me by a LAMPS pilot, her first deployment embarked a LAMPS 3 bird from HSL-43 Det 4 exhibiting side number 24 tail code TT. Two SH60B helicopters were scratch built. The best was ranged on the deck over the RAST (Recovery Assist Secure and Traversing system) trolley and marked as such, the other was folded up and stuffed in the port hanger. Decades after the model was completed, a reading of FFG43's 1986 command history on the internet confirmed the markings but revealed that only one helicopter was assigned.

The model was constructed in 1990 from Evergreen sheet styrene, tube, and rod with stretched sprue details. The motor whaleboat, all weapons and radars were scratch built. The anchor chain was purchased from a model railroad shop. The DESRON 21 insignia was hand painted on a white decal sheet as were the bridge wing campaign ribbons, flags denoting the ships call sign on the pilot house beneath the SLQ32 arrays, and the pennants on the flag bags. Gold Medal decals of DC door markings and traffic control arrows were used where applicable. The national ensign was hand painted on a piece of aluminum foil. Clear styrene sheet was cut up for the helicopter control and RAST stations and the pilothouse windows. A woman's nylon stocking was painted and cut up for the helicopter pad safety net. The model was mounted on a blue sheet of Plexiglas textured with acrylic gel, painted the artist acrylic paint, and finished with a gloss varnish.

---
Gallery updated 5/6/2023


© ModelWarships.com