USS Reuben James, FFG-57
by Ryan Labieniec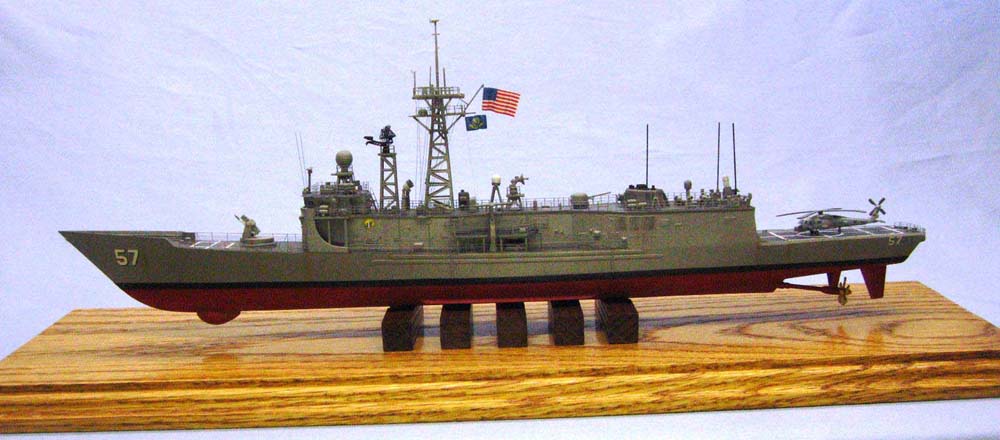 1/350 USS Reuben James, FFG-57 (Academy)
This is the Academy USS Reuben James kit. It is marketed as a "premium edition" and comes with photo etched brass fittings made by Pontos. This build is all OOB (out of the box) with the exception of some of the decals.
The Kit-
Pros: Fit is excellent on nearly every part including the photo etch. Very minimal seams to deal with, and most are easily eliminated. The detail on this kit is great, the bulkheads are nicely detailed, and do not scream for aftermarket or scratch replacement. The PE is very nicely done, and is tailor made to fit each space. The CIWS and Sea Hawk are ok at best, but would be much better replaced with Veteran parts.

Cons: My biggest gripe is the kit was originally designed for plastic rails which are included. This means that there are lots of holes in every deck to accept the plastic rails, and these holes must be filled if you want to use the included PE. Many of the holes are very close to other surface details, so filling and sanding can be difficult in some areas. The James is a long hull Perry class, so you have to add a section to the stern, which can be a little tricky to fit in place properly. The RHIB is very sub-par when compared to the detail on the rest of the kit, so I opted to just leave it off entirely. The PE, while very nice, is also very thin, so it is highly unforgiving of multiple bends or mis-handling.

The flag decals were home-made, and I am especially happy with how nice the Navy flag came out. Squadron crest is just a random one I had in a spares box to add some color to the ship.
Conclusion-
Overall I would highly recommend this kit to anyone looking for a modern USN escort to add to their fleet, or someone wanting to try out a modern ship and PE without breaking the bank. While not without faults, they are pretty easy to overcome with average modeling skills. OOB it can be built into a very nice model, and with a little extra detail will look awesome. For a kit of this quality and including all the necessary PE, I found the $40-$45 price tag to be a heck of a bargain. This is my first experience with an Academy ship kit, and I am a fan!
Semper Fi!

---
Gallery updated 2013


© ModelWarships.com