Leander Triplets
by Mathew Tuck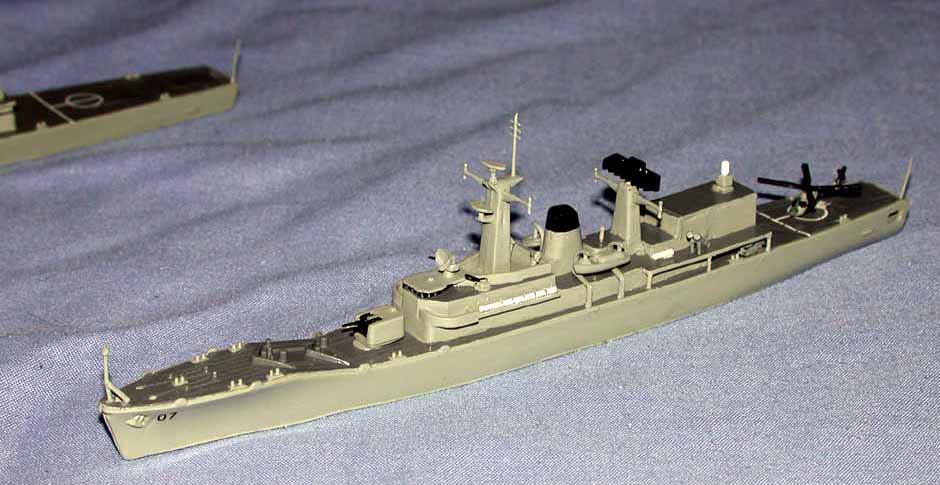 1/600 Leander Triplets (Airfix)
The Leander Class Frigate was the first ship kit that I ever built-and the first one still plods along in my fleet as the F55. I have since gone on to build 12 examples of one of the RNís finest GP Frigates, of which the three Iím showing today show a cross-section of them. These Airfix kits are easy to build and make good projects for beginners. As you will see the more I built the more Airfix parts I replaced, even entire parts of the superstructure on Almirante Lynch, and have made extensive use of parts from Skywave/Dragon Models.
As Built Specifications:
Displacement: 3300tons full load
Speed: 27 Knots
Complement:260
Weapons:1 Mk 64.5 inch gun, 2 20mm AA guns, 1 Seacat Launcher, Limbo ASW mortar.
Aviation: 1 Wasp Helicopter.
My ships:
HMS Minerva F 45

Commissioned 1964
Exocet Modernisation 1979 replacing the Mk6 4.5 inch Gun, refitted for Lynx
Decommissioned 1992, Scrapped
HMNZS Canterbury F 421

Commissioned RNZN 1971
Never fitted with Limbo, Seacat replaced early 1990ís with Phalanx CIWS
Decommissioned 2005, sunk as dive wreck.
CNS Almirante Lynch PFG-07

Commissioned Chilean Navy 1974
Seacat removed early 1990ís replaced with Phalanx CIWS, MM-40 Exocet installed.
Decommissioned 2007, sold to Ecuador.
---

© ModelWarships.com