S-100 Schnellboot
by Chuck Bauer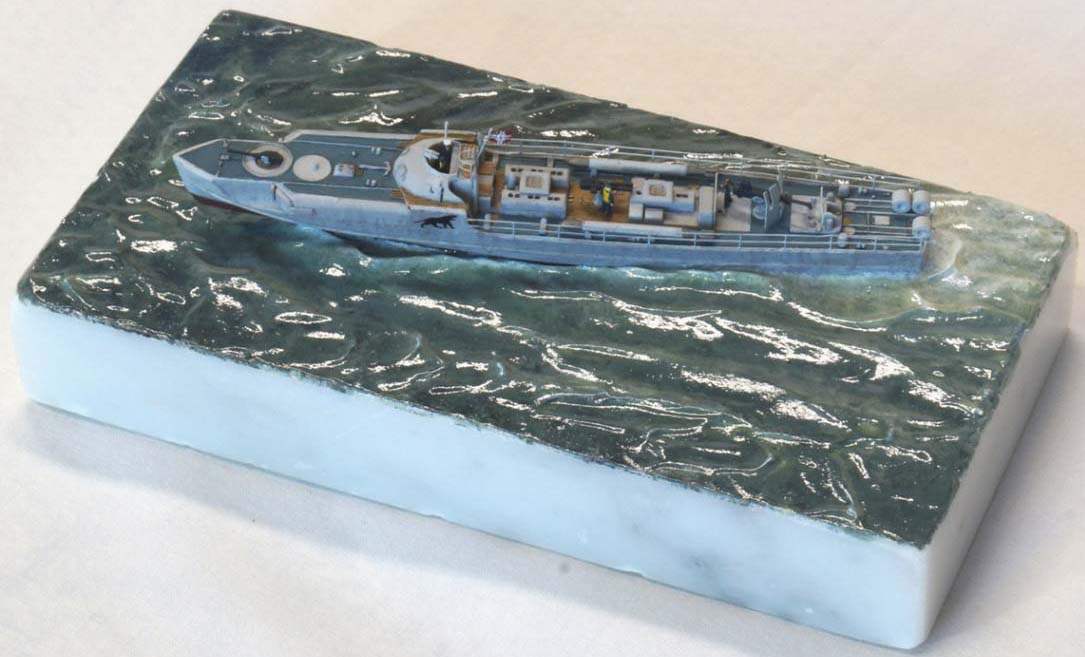 1/350 S-100 Schnellboot (Trumpeter)
A couple of months ago I decided to work down my stash a little bit. This is the first of four seascape vignettes, all of which are 1/350 scale, and thus match the majority of my other builds.

The model began as Trumpeter's kit no. 06615, which is sold on a hanging blister pack. The instructions are on the back of the pack and are sufficient for the minimal number of parts included. In my opinion it is a decent representation for this scale, but would not look finished if built "out of the box" with no add-ons. This is because there are no railings, flag(s) or jackstaffs included. So I decided to simply make the pieces needed to create what I considered a finished model. I used 17 of the kit parts, but ended up adding an additional 32 photo etch and scratch built pieces. The flag is an Invisaclear/Scalemaster product from Gold Medal Models and the figures are injection molded pieces from Tamiya. Scratch built add-ons include the observation platform behind the bridge, all the railings and ladders, the jackstaff and flag, the bridge "binoculars", the depth charges, and the uniform caps and hats.

The base is a piece of Italian marble which was available at no cost and proved a suitable size for this scale and subject. I sculpted the water with acrylic gesso and painted it with a variety of acrylics and oils, finishing up with a high gloss lacquer. In person the water looks like it could be the North Sea, the English Channel, or the Atlantic Ocean in winter, but I am not sure the photographs convey that same impression.

I put 54 hours into the project and had a lot of fun with it. Thanks for looking.
---
Gallery updated 5/5/2017


© ModelWarships.com