HMCS Summerside (MM-711)
by Sean Campbell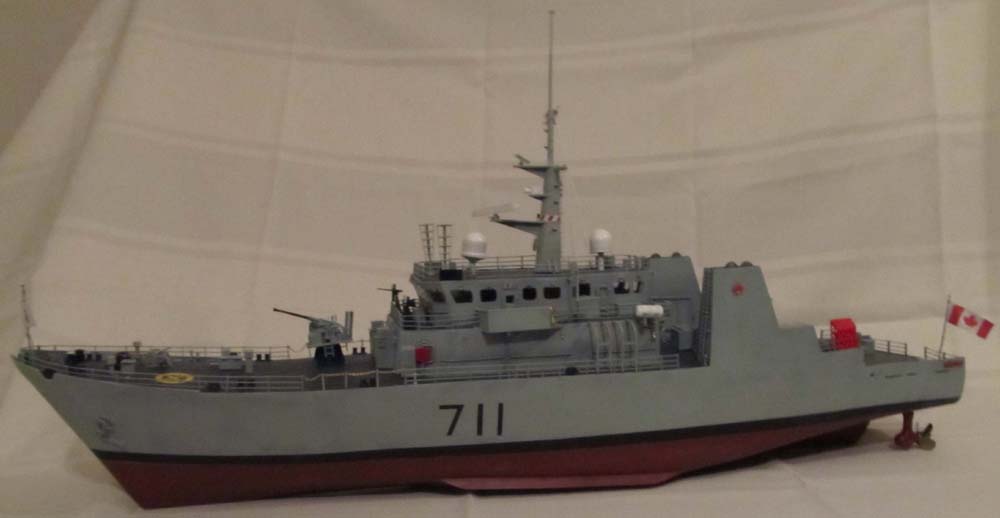 1/72 HMCS Summerside (Scratchbuilt)
The start of this project was triggered by the Canadian Naval centennial in 2010. Having wanted to do a 1/72 scale ship model for some time, I elected to build the Kingston-class Maritime Costal Defence Vessel (MCDV) HMCS SUMMERSIDE, partly because she was named for the second-largest city in my home province of PEI, and partly because she would be an easier project to tackle for a fellow who'd never built a ship model before. I had lots of experience building (and competing with) 1/72 scale model kits, but I'd never tried a scratch build before.
It took 18 months to complete, and I competed in the 2011 Western Canadian Regional Model Contest with her where she took home Best Canadian Naval Vessel and IPMS Canada Members Choice.
SUMERSIDE was donated to HMCS QUEEN CHARLOTTE, the naval reserve unit in Charlottetown PEI in the summer of 2011, where she resides on display in the main lobby. After the donation, I had the privilege to meet the Captain and crew of the actual HMCS SUMMERSIDE, and it was an amazing chance to see a subject I had grown to know so intimately over the previous 18 months up-close and personal. It's not often we as modelers get this sort of opportunity, and I was honoured to have met these men and women of the Royal Canadian Navy.
More details (and photos) on the project are available on the Model Warships Online Scratchbuild Projects forum.

---
Gallery updated 2012


© ModelWarships.com