Flower Class corvette
by Roy Mcleod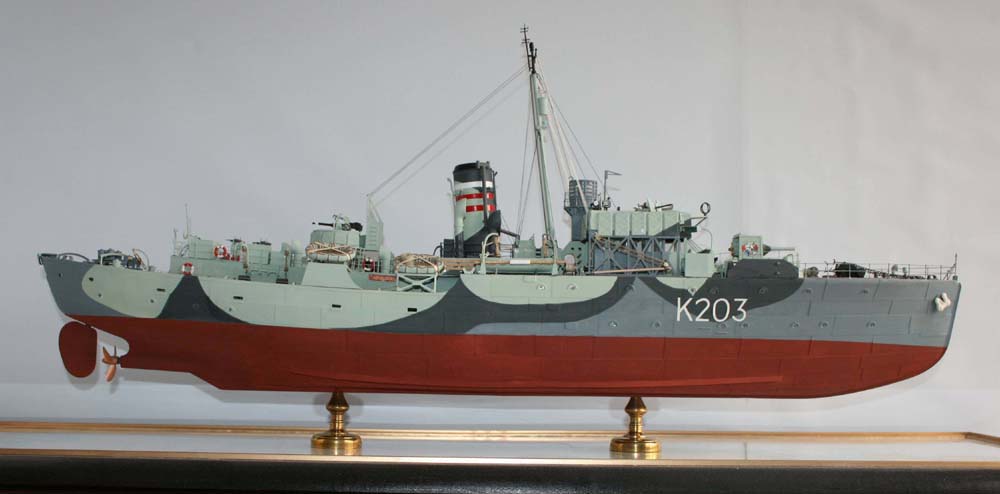 1/72 Flower Class corvette (Revell)
Here's my 1/72 scale Flower Class Corvette HMS Hemlock which I built for my Father.
This is her second incarnation as I originally built her out of box in 2002 (!) as HMCS Snowberry. She then sat in my Dining Room for several years as I wasn't overly pleased with the results (she was my first model since an Airfix Iron Duke I butchered in 1970 aged 8!).
In the mid 2000's I discovered this wonderful site and saw what could be done with scratch building and super detailing. After scratch building the 2 pdr. everything else on the kit looked comparatively poor and so in October 2011 I broke the ship down to its constituent parts, leaving only the hull sides attached to each other, binned many of the parts and began a major re-fit!
I replaced the entire deck with scribed sheet plastic and planked the sections forward, aft and the bridge area with wood strip. Also scratch built are the Type 286/291 radar, most of the bridge fixtures and fittings, the internals of the ship's boats, the 2pdr, engine room skylight, ships booms, Downton pump, detail on and around the 4 inch, degaussing...and my personal favorite the anchor windlass (a £1 friction racing car had to die for those cogs!). Numerous other bits and bobs were scratched or had detail added.
I used varying amounts of the Great Little Ships 'after market' kits for the Hedgehog, stern d.c. rails, depth charge throwers and rope rails (and eventually replaced both the 4 inch and 2 pdr barrels with BMK brass alternatives). The oerlikons were cannibalized from other kits before I discovered the marvelous GLS stuff.
She is painted in an Admiralty Disruptive pattern featuring MS4a, B5 and 507a, using WEM colourcoats.
I'd love to give you Hemlocks wartime service record but the truth is she never had one, being canceled in 1941. My intent was to build a representation of a typical Flower, and to give her a genuine name and pennant, but I didn't feel comfortable using an actual commissioned ship because I wanted to introduce an element that has never appeared on any ship past or present.
This was the gun shield art which I wanted to be unique to this ship and also have relevance to the family name. Cartoon gun shield art was a feature of many Flowers and mine is a version of the Mcleod clan crest which I've included for reference. The gun shield art shows the horned beastly in No. 1's crushing a U-boat in it's fist.
As stated earlier the ship was built for my Father, in memory of my Grandfather who served on Russian convoys in HMS Portchester Castle (the ship that later took the part of HMS Saltash Castle in the film 'The Cruel Sea' and appeared briefly in 'The Man Who Never Was'). I couldn't find a Castle Class at the time and a Flower seemed the obvious alternative.
I know there are quite a few technical inaccuracies in the build, and there are many more pieces I'd like to have included/upgraded (a Kelvin sounder for one) but I'd promised her for Christmas 2012 and didn't want to disappoint!
So this is the point at which I 'drew the line' and she now resides in her permanent berth in Mum and Dads Living Room.

---
Gallery updated 2013


© ModelWarships.com