HMS Leeds Castle
by Chris Hewitt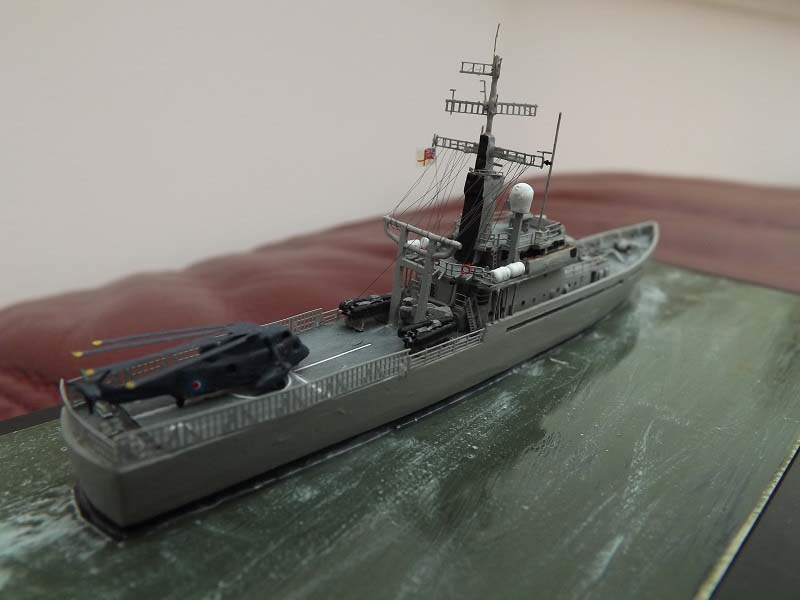 1/700 HMS Leeds Castle (Fine Waterline)
History first, HMS Leeds Castle (P258) was a Castle-class patrol ship built by Hall, Russell & Company of Aberdeen, Scotland for the Royal Navy. She was launched in October 1980 and commissioned the following August. She was involved in the 1982 Falklands War, operating between the British territories of Ascension Island, South Georgia, and the Falkland Islands as a despatch vessel commanded by Lieutenant-Commander Colin Hamilton.
The Leeds Castle spent much time performing fishery protection duties around the United Kingdom, as well as being used as a guard ship in the Falkland Islands. In 2000, Leeds Castle underwent an eight-month refit, returning to the fleet in early 2001.
On 8 August 2005 she returned for the final time to her home base of Portsmouth to be decommissioned after a 24-year career having finished her final deployment as a patrol vessel based in the Falkland Islands. She was relieved in that role by her sister ship HMS Dumbarton Castle (commissioned in 1982) which served in that role until being replaced in 2007 by the new HMS Clyde.
In April 2010 Leeds Castle was sold to Bangladesh along with the sister ship HMS Dumbarton Castle. She left Portsmouth under tow for the A&P Group facility in Newcastle upon Tyne on 14 May 2010, where both ships underwent a major regeneration refit that was completed in December 2010.
In March 2011, the Leeds Castle and Dumbarton Castle was recommissioned as the Dhaleshwari and Bijoy of the Bangladesh Navy respectively.
Kit supplier
Bought this from FineWaterline.com, another very helpful ship site and they make a small amount of of resin kits in 1/700. There is no P.E. with this kit, but the spares box, now comes in very handy.

---
Gallery updated 2013


© ModelWarships.com