Fairmile Type D Motor Torpedo Boat
by Chuck Bauer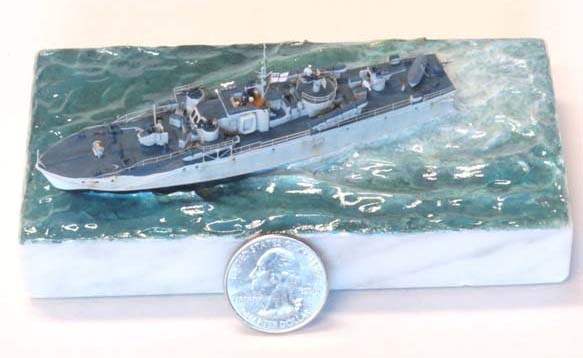 1/350 Fairmile Type D MTB (WEM)
The History

The Fairmile Marine Company was founded in 1939 by automobile manufacturer Noel Macklin, who lived in the Cobham Fairmile parish of Surrey County in England. His early iterations of motor torpedo boats showed promise, but were not heavily armed enough--nor fast enough--for their intended purpose. The realities of World War II compelled significant design evolution, plus many variations in armament and configuration. The final design was the D series. The first D series boat with four torpedo tubes was unveiled in December 1944, and is represented in this model.

The Model

This is the third of four seascape vignettes I am building in 1/350 scale. The base is a piece of Italian marble covered in acrylic gesso, sculpted to form the water. The seascape is supposed to depict either the North Sea or the English Channel in summertime.

The White Ensign Models kit contains some resin parts, a very nice photo etched metal fret, and excellent instructions. I wasn't happy with the resin parts, due to all the pinhole porosity. But the photo etched fret was beautifully done. Many of the details are as delicate and as fine as I have seen in this scale. Furthermore, there are extra parts on the fret, presumably to make other types of Fairmile boats.

To build this model, I used 42 resin and PE parts from the kit. In addition, I scratch built some other details and used aftermarket PE from my stash. This includes the hawse reel on the bow and some turned brass gun barrels. In total, the finished model contains 83 pieces.

This project took 73 hours to complete, plus research time. And once again, the research was as much fun as building the model.
---
Gallery updated 7/6/2017


© ModelWarships.com