HMS Upton Ton Class Minesweeper
by Paul Ellison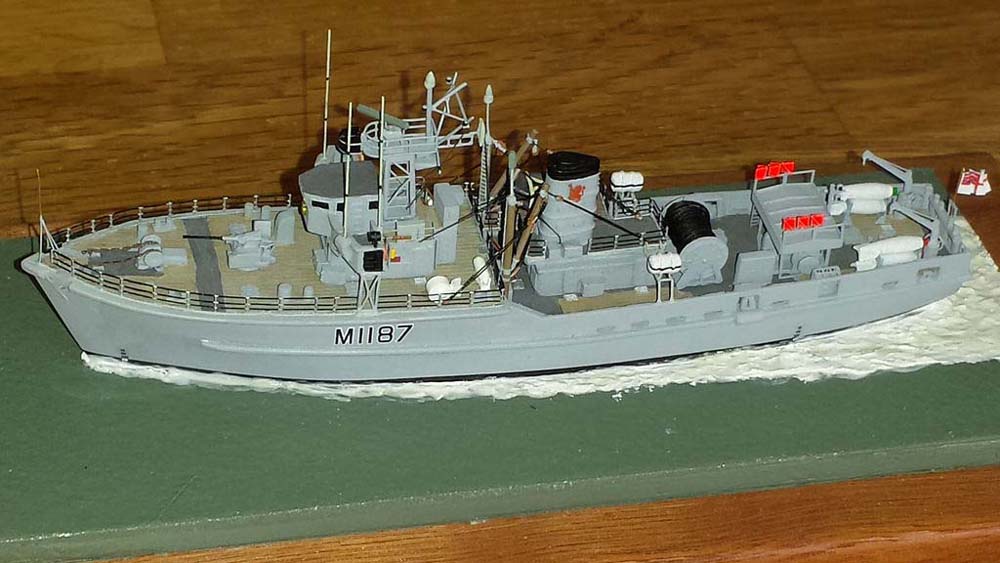 1/350 HMS Upton Minesweeper (Atlantic)
Here is the second of my Ton Class models, this time HMS Upton a Minesweeper. I was not originally intending to build this model but as I had decided to develop Photo Etch for Brereton I thought I should go one step further and develop PE to enable me to build another model to show the extent of the difference between a Minehunter and a Minesweeper. So I designed the Photo Etch and bought another kit.

I originally started out with the intention of building HMS Wotton which is why the build log refers to HMS Brereton and HMS Wotton.

However I changed my mind as I had no connection with Wotton whereas I grew up in a village called Upton. I am aware that in doing so I am causing confusion with the Atlantic Models kit that I converted. To be clear the Atlantic Models kit is a Minehunter and is actually HMS Nurton and not HMS Upton as stated on the box cover. Not that it matters too much as it is an excellent kit and a joy to build.

So here are pictures of my HMS Upton, a conversion from the Atlantic Models kit to a Minesweeper and some pictures with my models of HMS Brereton and HMS Upton together:

As an aside, if anyone is interested I can get repeat orders of the Photo Etch made up for both the Minehunter and Minesweeper models.
---
Gallery updated 10/16/2017


© ModelWarships.com