HMS Campanula
by Mike McCabe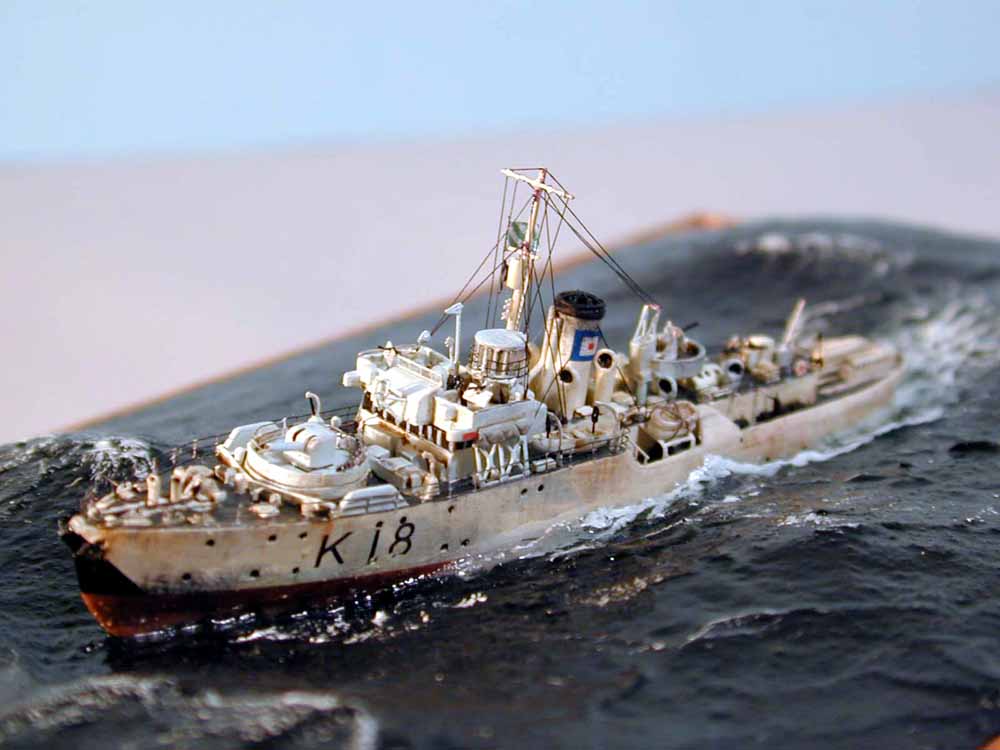 1/700 HMS Campanula (White Ensign)
The most difficult thing about building any Flower Class corvette must be to decide which ship to model. No individual ship of this numerous class seems to be the same as any other, with a bewildering number of minor details in armament and layout making each one slightly unique. To my mind the name Flower class corvette conjures up a mental image of a plucky little ship buffeting its way through heavy seas looking pretty weather beaten, and that was the image I wanted to produce with this model. My choice of ship would have to be something which had a similar basic layout to the WEM HMS Bluebell kit that I had, in other words a long foícísle ship with more or less the same bridge layout. Fortunately I came across some photographs of HMS Campanula wearing the classic blue and white Western Approaches camouflage, a little more digging showed this to be the ship which the author of The Cruel Sea, Nicholas Montserrat had served in, so the choice was easy.
I have seen this kit reviewed as being ideal for a beginner to resin kits, but as far as I am concerned I found this to be one of the most difficult kits I have built. That might sound a negative comment, but it is in fact praise for the amount of detail squeezed into a model measuring about 7 cm long. Flowers were very busy little ships with equipment crammed into every available space, the WEM kit does a fine job of reproducing just about as much of this as it is possible in this scale, making this a handful to get everything in its place. The only slight problem I had was in the fit of the lower hull which needed quite a bit of filling and sanding to get this to meet with the upper hull section. Campanula had a slightly different fit of carley floats from the Bluebell kit my model was based on, so I added the supports using plastic card and also altered the depth charge rails. A second set of depth charge throwers were added and other minor details including splinter mats from filler which was shaped before it had hardened. The radar lantern was a bit of a problem as Campanula carried a different pattern to that in the kit, after trying to modify the larger of the lanterns available separately from WEM, I gave up and scratchbuilt one to the correct design using 1:350 ladder and glazed with Kristal Kleer which turned out quite well I think. Apart from these I added minor details such as ready use ammunition racks around the 4Ē gun and splinter mats to give a bit of detail to these areas. For the first time I used Gold Medal Models ultra-fine railings and I am converted, with a model this size anything heavier would look out of scale, I sprayed these black and picked out the stanchions to further lighten the impression.
Painting is using WEM colourcoats, heavily chipped and weathered, finished off with a black and burnt sienna oil wash and much use of pastels to give the model a suitably grimy and hard-worked look. Rigging is using fly tying line, which can be tightened using heat the same as stretched sprue but which I find easier to use as I can never consistently stretch sprue to the same thickness!
The sea base is the result of some trial and error, mostly error which proved to me that trying to cast a resin sea base is smelly, sticky and likely to make you very cross. After about four attempts at this I gave up and used plaster of paris to create the basic shape and covered this with liberal amounts of acrylic gel until I got the desired shape, I added a bow wave made from part of a clear plastic food bag, coated in thin CA and then using pointed tweezers I pulled the edge away to create the effect of the broken wave.
The photographs contain a little experiment using a mix of two electric lamps, one with a normal 100w bulb and another with a daylight bulb, the effect is intended to give a reddish glow from the normal bulb to see if this would mimic the glow from the sunset. A better background would help in future I think. There are also a couple of black and white photos fiddled with in Photoshop to add a grainy texture in an attempt to make these look like old photographs.
I really enjoy the challenge of these small ships, the size can be judged from the paint tinlet next to it, I hope to build a short foícísle flower (I think HP make one?) and a military class trawler would make a nice scratchbuilding project.
---

© ModelWarships.com