Amur
by Mike McCabe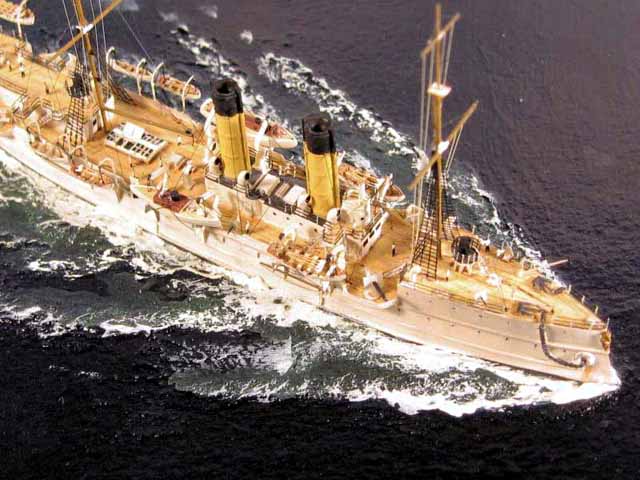 1/700 Amur – Russian Imperial Navy minelayer 1905 (Modelkrak)
A change is as good as a rest so they say, so for me this was something different from my usual 1930's and 40's or thereabouts period and a chance to stretch my modelling skills a little. The ship is Amur, one of a class of two with her sister ship Enisey which were operated by the Imperial Russian Navy in the early part of the twentieth century.
The kit is Modelkrak, a resin company which only the diehards seem to have tackled, mainly I think due to their catalogue, Russian, Japanese and American pre-dreadnought warships in the main, but also a company with I think a mixed reputation. I must admit to being pleasantly surprised by the quality of casting of the hull, it was far better than I expected and other than some moulded on steps and a heavy casting plug, was very acceptable. From the hull up things become a little more complicated, as apart from the funnels, vents and a few small resin parts, it quickly became obvious that there was going to be some scratchbuilding involved.
After cleaning up the hull, I proceeded to paint this first, spraying the hull in an off white mix of humbrol that I made by adding flat yellow to white until I was happy with it, then the deck was painted using a base of humbrol (?), with a wooden effect by streaking with variously lightened and darkened tones of the same base colour. Knowing that it would be impossible later, I lightly weathered the hull and deck at this point as I wanted to have a fairly clean ship to show off the nice colour scheme.
After placing the funnels and the minimal superstructure in place, I scratchbuilt the main guns from plastic, paper and brass rod, then moved onto the thorny problem of the boat handling gear. The larger boats were supported on boat cradles which lay partly outboard, fortunately Jim Baumann was able to supply me with some photos which meant I could make out their shape. At this point Rob Kernaghan made the excellent suggestion of using the White Ensign Askold fret for part of the boat cradles, this was a life saver as it not only provided these but searchlight platforms, 3 pounder guns and a number of davits and fittings which would have been a nightmare to scratchbuild.
Feeling that the job had suddenly become much more manageable, I set about manufacturing the boat cradles from another JB moment of inspiration, solder. This proved to be an ideal material for creating a uniform shape in the davits which could be flattened on each side with a little sanding, but was stiff and malleable enough to both hold its shape yet be able to take minor adjustments to ensure regularity, thanks Jim! I completed the cradles with paper and plastic rod and set them in place. Ship's boats were a combination of kit parts with paper thwarts and some steam launches from the ever generous Rob K.
With boats completed I moved onto the masts, these were made from brass rod tapered using a motor tool and sanding disk, the effect was not all I had hoped for though it did prevent the flat ended look which comes from using rod. With the masts in place I set about the rigging, using Atlantic models excellent ratlines to start, with the remainder stretched sprue, once again thanks to Mr B for pointing out some errors in my initial attempt at this. To finish off I placed a few crew members and mounted on my usual sea base.
At times this was a challenging build, rigging in particular caused several moments of frustration but the kit provided a good basis for what I think is a very attractive ship and a nice change from the usual grey schemes. I would have to say I never quite saw the attraction of pre-dreadnought ships until building this one, I have a feeling there will be more…
---

© ModelWarships.com