44' Motor Lifeboat
by Michael Maynard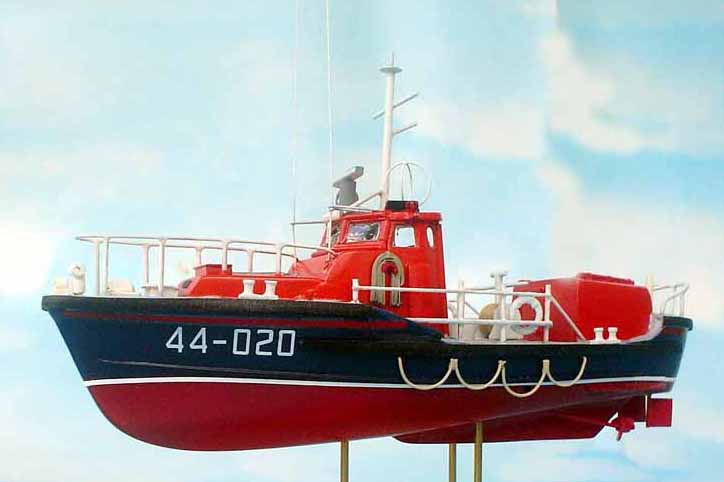 1/87 44' Motor Lifeboat (Scratchbuilt)
The Ship
The 44' Motor Lifeboat (MLB) was designed by the US Coast Guard in the late 1950's to replace the aging 36' MLB, a design that dated back to 1900. The first 44' MLB, CG 44300, was launched in 1961at the CG yard in Baltimore. The 16 ton "300" was evaluated at different Coast Guard stations on the US coast under all types of weather and sea states. The boat was of steel hull construction divided into 6 watertight compartments making it almost unsinkable. In fact in 47 years of service no 44' was ever lost due to sinking. The boat was equipped with two survivor compartments that could accommodate 20 survivors plus the 4 man crew. Designed to "roll over" and right itself in 30 seconds with both engines running, the 44' MLB was considered a breakthrough in maritime design. Prior to it's inception all shore based life boats(around the world) were constructed of wood and were limited in range, speed, and number of survivors. In addition to it's radical construction, the 44'MLB was equipped with radar, AM and FM radios, fathometer, radio direction finder, a small galley, twin diesel engines, and sleeping bunks for the crew. So successful was this design it caught the attention of several rescue organizations around the world. Great Britain, Canada, Italy, Norway, and Iran all built their version of the American lifeboat, while other maritime nations were influenced by the steel hull design.
When the US Coast Guard 44' was replaced in the 1990's by the 47" MLB, the indestructible 44's found new life being shipped off to South America, Africa and Australia to serve as rescue boats in newly formed coastal rescue societies. Over 110 44' lifeboats were built in the US and another 30+ were built under license overseas. The 44' MLB continues to serve today in foreign coast guard service, 50 years after the CG 44300 was built, a testimony to a rugged and reliable craft. It's estimated that worldwide the 44' MLB saved over 60,000 people.
The Model
After a plug was made, I had a friend cast the hull in resin. The small size was chosen to offer HO model railroad fans a boat to place on their layout. My first example was mounted on an HO flatcar and looked pretty good. Unfortunately my friend lost interest in casting lifeboats and I was left with 7 hulls, not enough to sell as a railroad accessory. So I choose to build them as examples of the various rescue organizations. Each countries life boat had it's own unique cabin arrangement and electronics suite. A certain amount of scratch building had to be done to make each boat close to it's prototype. The best part of the build was applying the paint scheme, it's funny how a coat of paint can transform the same model into appearing like a different item altogether. Dumas models and Billings models both offer a larger size 44 MLB suitable for radio control.
---

© ModelWarships.com