Tarantul Missile Corvettes
by Paul Helfrich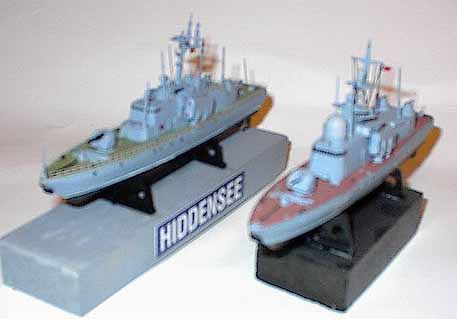 1/400 scale Tarantul Missile Corvettes (Mirage)
Here are two 1/400 scale Tarantul Missile Corvettes from Mirage Model. There is a Tarantul I (the Hiddensee) and a Tarantul III.
The Tarantul I Hiddensee has an interesting history, beginning in the former Soviet Union, where the ship was built. It later served in the former East German Navy, becoming part of the Bundesmarine after German reunification. It served there for a few years before being turned over to the US Navy for testing and review. It's now a museum ship on display at Battleship Cove in Fall River, Massachusetts, where it can be visited, along with the USS Massachusetts and other historic ships.
There are now two very interesting former Soviet warships on display within a short drive of each other in New England - the Tarantul I Hiddensee in Fall River, and a Juliet class missile submarine in Providence, Rhode Island. I've visited both, and they're well worth the trip.
---

© ModelWarships.com