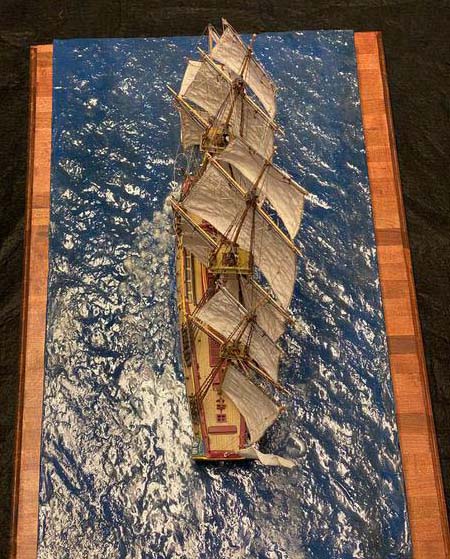 1/130 French Frigate La Vestale (Lindberg)

I present the French 8 pounder Frigate La Vestale. The kit is an old one, originally issued in the 1960s as the French Frigate "La Flore" and is today (and for at least the last 30 years as I built it as a kid also under the label of pirate ship) sold as "The Jolly Roger Pirate Ship." The kit is made after a model that was presented by the French to John F Kennedy (the model is still in his presidential library and photos are available online if you search for the La Flore).

The history of the real ship behind the Kennedy model is somewhat complex and there has been much research and discussion about it. Originally, it was built in the 1750s as the 8 pounder frigate La Vestale, captured by the British and renamed HMS Flora, recaptured by colonial forces during the American Revolution, and returned/sold to France where it was then called Flore Americaine. It was then sold from French naval service into private hands and fitted out as a privateer, finally captured again by the British in appx 1796. She was then broken up as she was very old by that point, both in years and design.

I got the kit because it was inexpensive and also an opportunity to practice painting plastic to look like wood. I was also anticipating recovering from surgery and needing something to do. Several years later, slowly, I have finally finished the ship. I didn't originally intend to rig her up, but here we are. The scale is quite difficult to rig completely properly, so there are some things left out simply because my fingers are more likely to cause a disaster than an acceptable result. Also, blocks that can be purchased do not come in a size small enough to be in scale for anything but the larger tackles on the ship. This means I need to build bigger models!

Gerin Choiniere
---
Gallery updated 12/9/2021


© ModelWarships.com