Privateer modified Baltimore Clipper
by Abel Hernandez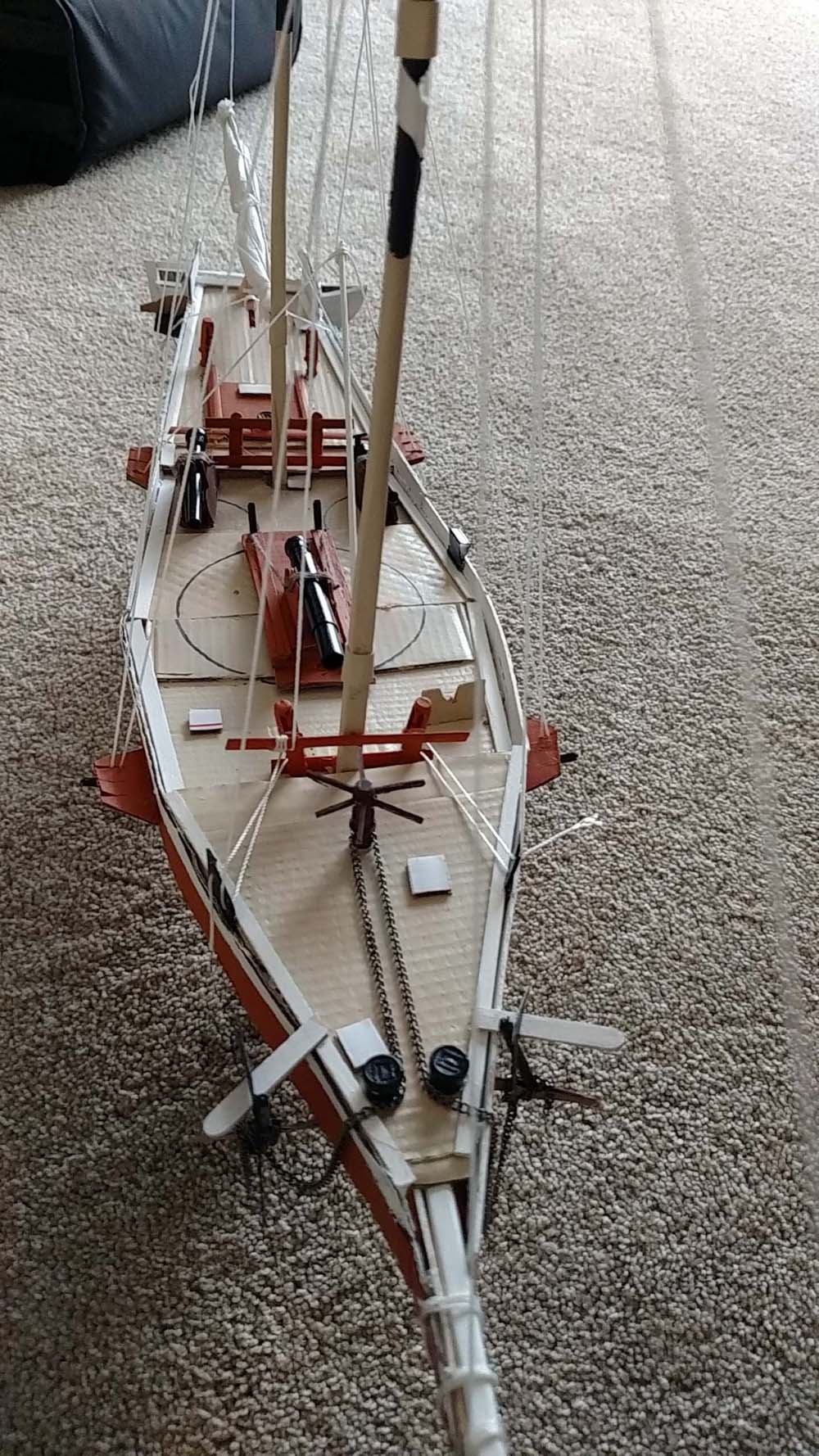 1/200 Privateer modified Baltimore Clipper (Scratchbuilt)
I have always built plastic models and thoroughly enjoyed them. A year ago, I went to a local fair and they had a tent of recycled constructs. Everything had to be made of recyclable materials. I saw examples of cars and a space shuttle. That really got my interest and I began to think about making a ship from cardboard and other recyclable materials. Since then, I have made a 1/200 SMS Westfalen battleship, several WW-II aircraft, three large scale tanks (JagdaPanther, Tiger, and Sherman), and the Baltimore Clipper displayed here.

I have always had an interest in Baltimore Clippers. They have graceful lines and are not very complicated. I thought this would be my first venture. The clipper is modified in I only had pictures from books. Additionally, I armed it with one large pivot gun and two smaller pivoting cannon. The guns do pivot and they elevate and depress. Also, the large gun slides on its cradle to show the run of the weapon when in action. The after hatch slides open and closed.

I started with creating bulkheads and ribs for the hull and decided to complete the portside first. The idea was any mistakes I made on the portside, I would learn from for the starboard. But once I finished the portside, I decided to leave the starboard open to show the ribs and the recycled material used. I have had people comment on the clipper and relate it looks like one you would buy at a store or online. When I tell them it is all from recycled material they are surprised. I then tell them to look at the other side—starboard, and they are really impressed to see the unfinished materials used.

I used the following in constructing the ship:

USPS mailing boxes and other scraps of cardboard
Wooden coffee stirs for planking and rails
Plastic straws for the cannons
A VA business card with an American Flag on one side
Kite string for rigging
Popsicle sticks for bracing and ribs
Paint stirrers for the keel
Tissue wrapping paper for the sail cloth
Plastic caps for deck fittings
Coffee cup cardboard holders
Chopsticks for the masts
Yarn for the cannon and sail lashings
Tooth picks for the finer woodwork
Part of a golf Tee for the tiller
The boats are hand made with light cardboard and coffee stirrers
Paint was standard art store acrylic
I used a hot glue gun and Emler's glue for holding things together


I would encourage model builders to give it a try. It was very interesting, you got to innovate a lot, everything you look at now becomes a possibility of use for the model. I had to tell myself to stop thinking about keeping every empty mailbox or wood and paper scraps.
---
Gallery updated 4/5/2019


© ModelWarships.com