USCGC Campbell
by Michael Maynard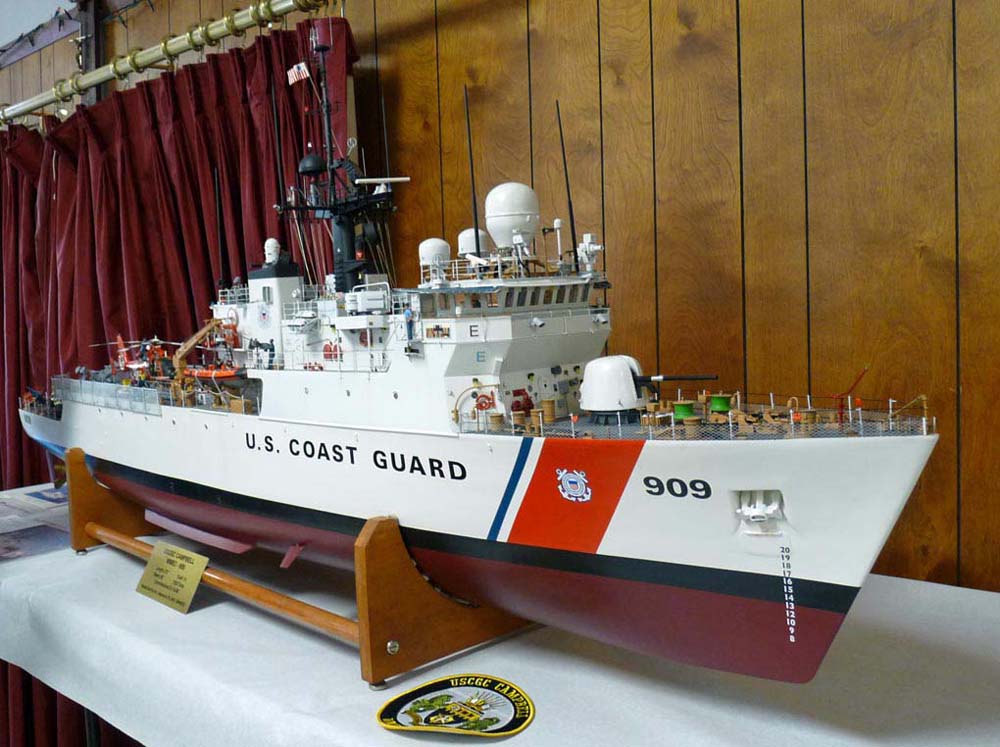 1/48 USCGC Campbell (Scratchbuilt)
I call this a once in a life time model as it's building process spanned 24 years! The ship is a replica of a US Coast Guard 270' "Famous" class cutter, currently in operation with the Coast Guard. Being a model builder and a Campbell "Plankowner" it was a natural fit for me to build an example of a ship I helped put in commission in 1988.
The Prototype
The actual cutter was one of 12 ships that were built to update the Services' aging fleet of WWII era ships. At 270 feet the ship was equipped with the latest up-to-date US Navy communications and sensor devices. Wartime armament included a 76mm gun, CWIS, Harpoon missiles, four 50cal machine guns as well as two chaff launchers. Designed to operate with current USCG and USN ASW helicopters, the ship is outfitted with a retractable hanger and compartment space dedicated to supporting the aircraft. A towed array sonar gives the ship ASW capabilities in concert with a armed ASW helicopter.
The Model
This model was started the day the Campbell was formally commissioned in July 1988. I was able to obtain ship's plans from the Engineering Officer and they were drawn up in 1:48 scale, putting the model at 72" in length. It is of plank on frame construction, the keel and frames are aircraft plywood and the planks cut from balsa wood. The deck and superstructure are constructed of 1/8th aircraft plywood. Most of the other fittings are fashioned from plastic, aluminum or brass. The are few commercial parts used on the model being the crew figures, HH-65 helo, ship's propellers, O-1 deck stanchions, LED's, Verlinden fire extinguishes and tool boxes. The ship was painted with Rustoleum spray paint and CG "spar" paint. Flags were ordered from CG Models.
Originally the model was to be R/C equipped with two 12 volt motors, electronic speed controls and a 6 channel radio. After I installed the motors and some ballast I realized this model is a bear to handle at about 25 pounds of weight and six feet in length. Just moving in tight quarters by myself causes all sorts of broken antennas and helicopter nets, it doesn't "swing" around corners very easy. I decided at this stage in my life the Campbell will be a display piece and not get it's keel wet. Fortunately it's new home port will the CG Heritage museum on Cape Cod where the model will be on display to the public, helping to tell the Coast Guard story.
Lastly, a special acknowledgment to two accomplished model builders, exceptional in their model work. The first is Loren Perry with his award winning radio controlled model destroyer USS Vogelgesang. His 48" model was so superior to any R/C ships that it looked great either cruising a lake or on display. His cutting edge attention to detail inspired me to attempt the model of the Campbell. And to Keith Bender (whose ship models grace the gallery pages) inspired me to "build a better model" than what I normally did. Plus his occasional "giving me the business" about completing my unfinished model. His kidding motivated me after a 10 year lag in construction, Keith's a true friend. The Navy Fire Scout drone on the Campbell's helo deck is my "Thanks "to these two Navy Men and their part in my model's construction. You guys are the best.

---
Gallery updated 2013


© ModelWarships.com