USCG Taney WHEC-37
by Tim Reynaga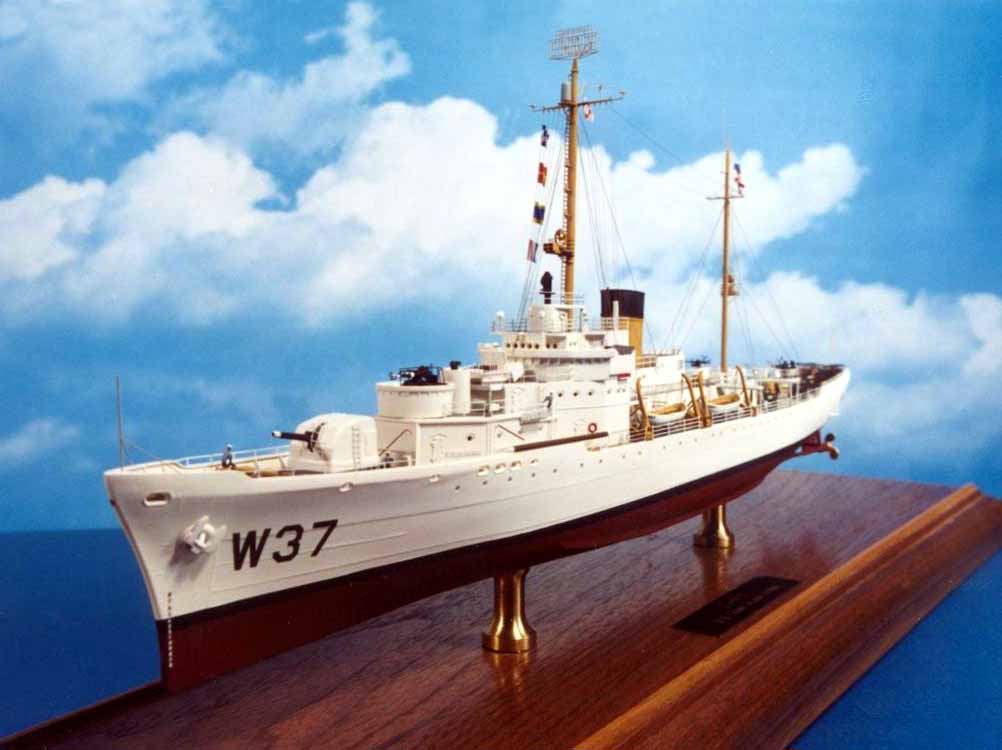 1/303 USCG Taney WHEC-37 (Revell)
This is Revell's 1/303 scale U.S. Coast Guard Cutter Taney, a golden oldie dating from 1956. A fairly accurate kit overall, it unfortunately suffers from many plastic model kit shortcomings typical of the time: indifferent parts fit, simplified weapons, heavy details, and of course those awful solid molded hand rails. Intended for the baby boomer child market, early issues even had the parts divided among sprues molded in white, black, and orange-brown plastic so kids wouldn't have to paint them! This semi-toy approach makes this kit a quick one to assemble but a bit of a challenge to detail. Still, it was one of the first plastic model ship kits ever, so I guess it can be forgiven for being less than today's state of the art.
Subsequent issues over the years (sometimes as the Campbell, more often as the Taney) have appeared in all white plastic with new box art and decals. The model is a pretty good representation of the ship as it appeared in the early 1950s, with only a few minor inaccuracies:
the fantail (under the depth charge tracks) should be unplanked steel deck
main deck sections beneath the >boats should be unplanked steel
bridge wing decks should be planked
decals for all issues of the kit have red "NRDC" (Campbell's call sign) markings for the balloon shelter; Taney was "NRDT"
Gold Medal Models (GMM) set 300-17 REVELL USCG CAMPBELL / EASTWIND photoetched brass and HR Products white metal weapons go a long way to update this classic kit. I built this model as a gift for my dad who served aboard in the 1950s, so I went all out and added other refinements as well:
MAIN DECK:
teak decks overlaid with Evergreen .025" spaced V groove scribed styrene plastic sheet
anchor handling gear replaced; brass chain with capstans and various pieces scratchbuilt
mooring bitts replaced with parts cast in resin from a scratchbuilt original
oil bunker vents made from wire
GMM photoetch and brass rod used to replace molded in railings, platform supports, and fairleads
deck hatches scratchbuilt using styrene and adapted GMM and Flagship Models photoetch door parts
boats improved with scribed plastic floors, plastic strip thwarts, brass oars, decal markings
boat cradles adapted from Tom's Modelworks 1/350 Arizona photoetch parts
boat davits replaced with parts cast in resin from scratchbuilt original
kit boat booms replaced with telescoped brass tubes
large vent and winch on main deck aft scratchbuilt
crew figures adapted from White Ensign Models photoetch 1/350 British carrier crew
HULL:
molded in railings removed, replaced with photoetch
kit anchors replaced with modified Tamiya 1/350 King George V parts
excess scuppers on forward bulwark (correct for Campbell but not for Taney) filled in
kit bulwark tops and inboard supports replaced with styrene strip
bullnose added at forepeak, tow hawser opening and collar at stern
incorrect kit propeller struts replaced, new propeller guards adapted from photoetch parts
SUPERSTRUCTURE:
molded in railings removed, replaced with photoetch
kit bulkhead details removed and replaced with wire door and porthole eyebrows, red firefighting fog applicators and axe, photoetch doors, ladders, hoses, handgrabs, liferings and stokes litters
kit portholes drilled out for uniform diameter, some additional ports added
interior bulkheads and decks visible through open doors on deckhouse built up from plastic sheet
auxiliary binnacle from Revell Emden atop CIC, scratchbuilt gyrocompass repeater above pilothouse, ship's bell adapted from model railroad part
scratchbuilt captain's chair and pelorus added to each bridge wing
smooth bridge wing decks covered with scribed styrene sheet
canvas covers for flag bags simulated with painted tissue
all vents and lockers replaced with new ones made from sheet plastic
four small spotlights made from Tamiya KGV parts, MV Products lenses, and wire
floater baskets (six, in three styles) fabricated using scrap photoetch radar screens and wire
TAJ antenna tuning support near funnel made from telescoped brass tubes with photoetch ladder
funnel surface detail removed and replaced with plastic strip; funnel access ladder, platform, and whistle added using photoetch scraps and wire
scribed plastic rolldoor added to the balloon shelter aft of funnel
incorrect kit "NRDC" (Campbell) decal replaced with correct "NRDT" (Taney) marking atop balloon shelter
WEAPONS:
5" gun barrel replaced with properly tapered part turned from plastic sprue; styrene access doors and photoetch ladders added to gunhouse; blast bag retainers made from wire
40mm mount replaced with HR Products part (AB20 40mm gun, twin) modified with scrap photoetch mesh floor and GMM details
40mm gun tub ready use ammunition racks fashioned from photoetch ladders
hedgehog ASW rocket launcher and reload lockers scratchbuilt using plastic sheet, rod, strip, and photoetch ladder parts
fire control directors adapted from Tamiya 1/350 Missouri parts
20mm oerlikons replaced with HR parts (AB19 20mm gun, single) detailed with brass rod and GMM photoetch
20mm oerlikon platforms and angled balloon launching platforms replaced with sheet styrene/photoetch parts
20mm ready use ammunition lockers scratchbuilt
kit depth charge throwers replaced with parts cast in resin from a modified HR part (AB25 k-gun), DC reload racks replaced with GMM photoetch; davits replaced with bent brass rods with photoetch pulleys
kit depth charge tracks at stern replaced with modified GMM photoetch parts
MASTS AND RIGGING:
kit masts replaced with telescoped brass tubing
sensor dome on foremast made from plastic sprue turned on a Dremel
radar, yards, ladders, IFF, and other details from GMM photoetch brass
mast-mounted searchlights adapted from 1/350 Tamiya Fletcher parts with MV Products lenses and scratchbuilt bases
jackstaff, flagstaff, halyards, stays and antennae made from various thicknesses of copper wire
U.S. National flag, U.S. Coast Guard ensign and Taney N-R-D-T call sign signal flags from Dunagain decals over tinfoil
---

© ModelWarships.com