USS Minnesota
by Philip LaVoie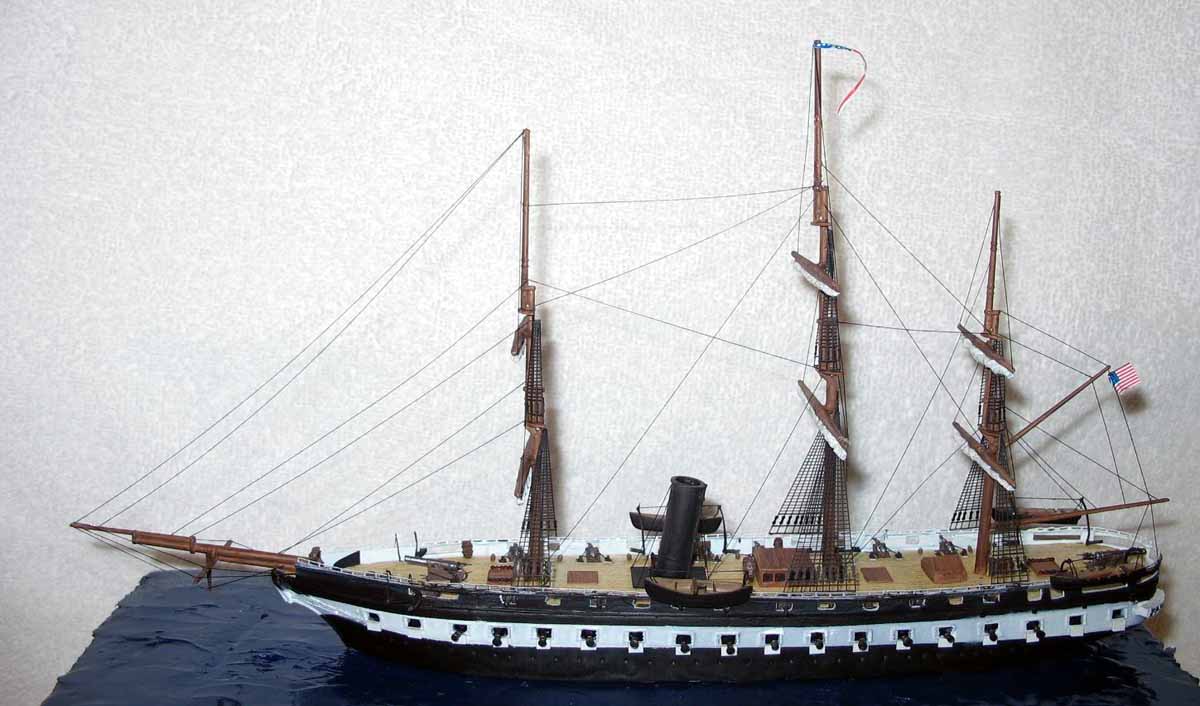 1/350 USS Minnesota, 1855 (Revell Germany Kitbash)
At 275 feet long and carrying 42 guns along her hull and deck, plus 2 x 10 inch Dahlgren smoothbore guns in pivot mounts, the USS Minnesota steam frigate was one of the largest and most heavily armed vessels during the civil war. After she was stricken in 1898, her metal fittings were used on the battleship USS Minnesota (BB-22). Her sister ship, the USS Merrimack, would eventually be transformed into the famous ironclad CSS Virginia.
This was the last ship I needed to complete my Ships of Minnesota namesake collection. I lengthened and heavily modified the hull from the Amerigo Vespucci Training Ship kit, plus used parts from her masts. Most everything else was scratch built and from the parts box. The smaller cannons were from the Blackbeard pirate ship kit and cut down to make them slightly smaller, and for the pivot guns I modified a couple small1/72 scale cannon.
For the heck of it I thought I'd display all my Minnesota namesake ships together, since they are all in 1/350 scale. In chronological order, they are the USS Minnesota steam frigate (1855), USS Minnesota BB-22 (1907), USS Minneapolis CA-36 1934 (in 1944 configuration), USS Duluth CL-87 (1944), USS Saint Paul CA-73 (1945), USS Duluth LPD-6 (1965), USS Minneapolis-St Paul SSN-708 (1984), and finally the USS Minnesota SSN-783 (2014).
---

© ModelWarships.com